After losing fourth group member La'Porsha Renae late in the night, the group Rebirth struggled to redo all their hard work and perform as a three person ensemble. Singers Manny Torres, Malie Delgado, and Christian Eason prove they didn't need a fourth body on stage to make a great impression.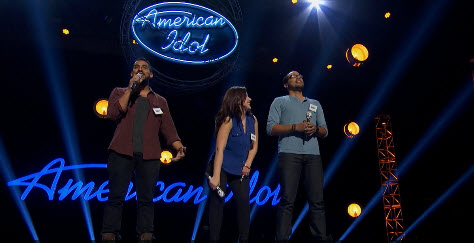 While Manny Torres definitely stood out as the strongest member of the group, all three singers were solid and gave a very good performance. We particularly like their attitude in dealing with a last minute change in the group. It was especially nice that they had no hard feelings toward La'Porsha Renae for leaving them to help two girls out so they wouldn't get eliminated for not having a enough group members.
This group is phenomenal! #HollywoodWeek https://t.co/MWZeMCGFIU

— American Idol (@AmericanIdol) January 29, 2016
Can't wait to find out if Jessica Cabral made it through to the next round of the competition? Take a sneak peek ahead in the season on our American Idol spoilers page!