American Idol Top 24 contestant Jeneve Rose Mitchell is no doubt one of the most unusual singers we've ever had on the show in 15 seasons. There is no doubt that many better singers were eliminated during the previous American Idol 2016 rounds. However, there is just something about self-proclaimed off-the-grid mountain girl Jeneve Rose that you just can't take your eyes off.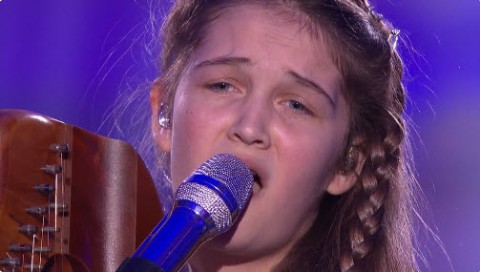 In addition to her singing skills, Jeneve Rose plays more instruments than a high school marching band. Which is what happens when you don't have electricity, video games, television, smartphones, or even close neighbors to entertain yourself with. For pure musicianship, at least, Jeneve Rose Mitchell has probably 90 percent of every American Idol competitor ever beaten to a pulp.
We are glad to see Jeneve stepping out of her country girl roots to take on something more contemporary tonight with "Angel" by Sarah Mclachlan — accompanying herself on the harp, no less! What did you think about her performance? Sound off in the comments area below!
.@JeneveRose + harp = skills! We're jealous of her musicality. #IdolTop24 ?https://t.co/p6ZNb8UP87

— American Idol (@AmericanIdol) February 11, 2016
Check out the Jeneve Rose Mitchell Top 24 profile page for more information on this dedicated young singer. Can't wait to find out if she made it through to the next round of the competition? Take a sneak peek ahead in the season on our American Idol spoilers page!