FOX has announced the start date of American Idol 2016 with the fifteenth and final season while marking the return of host Ryan Seacrest along with judges Jennifer Lopez, Harry Connick Jr., and Keith Urban.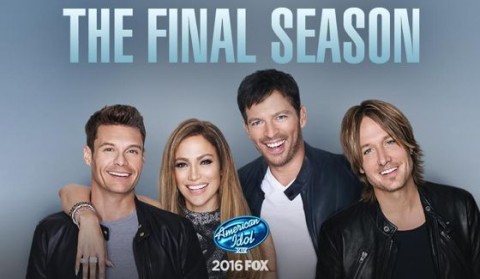 Yes, this is the end of American Idol, with one last season premiering in January 2016 according to the latest release from FOX as we set our DVRs and get ready for one last chance as Hopefuls set out to become the final American Idol winner.
The Season 15 premiere is scheduled for Wednesday, January 6, 2016 at 8-10PM ET/PT followed by a second episode on Thursday, January 7th also running two hours at 8-10PM ET/PT. This schedule will start to shift right away though.
The following week, as the American Idol 2016 auditions continue, we'll see episodes air on both Wednesday and Thursday nights, but Wednesday will be reduced to just one hour. Once we get to March we'll lose the Wednesday night shows and American Idol will just be on Thursdays from that point on in the season.
American Idol 2016 Schedule:
– Wednesday, January 6th: 8-10 PM ET/PT
– Thursday, January 7th: 8-10 PM ET/PT
– Wednesday, January 13th: 8-9 PM ET/PT
– Thursday, January 14th: 8-10PM ET/PT
– Wednesday episodes continue until March 2nd
Read the full American Idol schedule details.
Are you ready for the final season of American Idol? The 2016 season kicks off in less than two months and that means it's time to start watching for a roll out of American Idol spoilers and lots of fun hype. Can't wait to see what FOX has in store for Idol's big send off!