Last night the American Idol 2016 Top 10 contestants were revealed and they each took to the stage to sing for your votes ahead of next week's double elimination.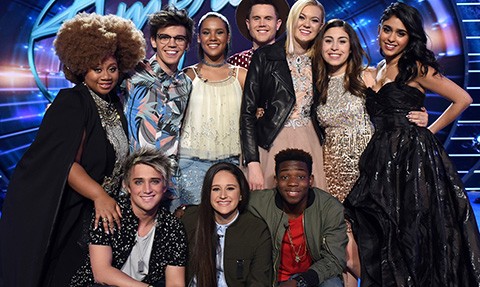 And for it to have been such an important performance, some of them really fell short. So let's get to the Top 10 report card.
Olivia Rox, "Unconditionally." This was a terrible song choice for her. It was too mellow and boring. I wanted to hear her rock it out and this was the time to really let loose. Grade: B
Gianna Isabella, "Listen." If you're just an OK 15-year-old singer, don't sing Beyonce. Especially don't sing a great big song like this. I'm not a fan. She's too young and will surely have later success, but I don't think now is her time. Grade: C-
Lee Jean, "Skinny Love." I didn't love this song choice and he seemed nervous, which is weird for him. I don't think this is going to pay off for him and he could be in danger next week. Grade: B-
Avalon Young, "Stitches." This one was a little boring at first, but did pick up later. I think her voice is really unique and I like that she's embracing this TV thing more now. Grade: B+
Dalton Rapattoni, "Hey Delilah." This was a perfect song choice for him and his energy was fantastic. The vocals weren't perfect, but he's doing most everything right. Grade: B+
Tristan McIntosh, "Nothin Life You." She looked great and she has a nice tone, but this performance was very, very bad. Grade: D
MacKenzie Bourg, "I See Fire." This guy is pretty flawless. He seems almost manufactured, though, and I'd love to see him vulnerable, but I can't say anything bad. He's good, this was good. Grade: A
La'Porsha Renae, "Diamonds." If you watched last night's episode, I don't even have to say anything. Perfection. Grade: A+
Sonika Vaid, "Bring Me To Life." I was shocked by this song choice, but it was a great performance. It was energetic and passionate. It was her best performance to date. Grade: A
Trent Harmon, "Like I Can." Well, this was definitely the La'Porsha and Trent show. I LOVED this performance and I love Trent. His voice is the most unique in this competition. Grade: A+
So there's my American Idol 2016 Top 10 report card. How would you grade the performances?
Click images to view larger