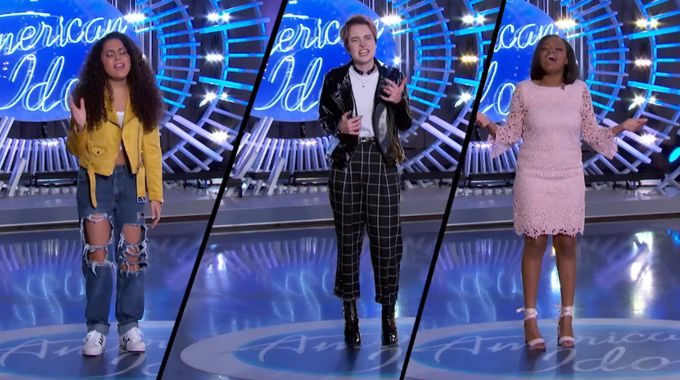 The American Idol 2018 start date is set for March 11, 2018 but that's no reason not to get this party started a little early!
ABC, the new home for the singing competition series, has kicked off voting for American Idol with a special AMA event from last night's show where three Hopefuls earned a second chance at Hollywood.
These singers didn't earn a Golden Ticket directly through their audition for the judges, but instead of sending them on home we the viewers got a chance to listen and decide who should be the one to move on.
Watch this introduction by Idol host Ryan Seacrest and then check out each of the singers' performances. Voting ends on Monday at 2PM ET and the results will be revealed tonight during DWTS.
American Idol 2018 – AMA Auditions:
Brittany Holmes, age 28, Aubrey, TX – "Let It Go" by James Bay
Dominique Smith, age 21, Brooklyn, NY – "Rolling in the Deep" by Adele
Maris, age 18, Missoula, MT – "Fool That I Am" by Etta James
Who do you think should be sent on to Hollywood for American Idol 2018? How excited are you to have voting back again after the time off? It's been awhile, but not too long so hopefully you got in on the action.
We'll keep watching to see who gets voted on to receive a Golden Ticket during tonight's American Idol results and then we'll get back to preparing for the new season this March on ABC.
Update: Results revealed that Brittany Holmes won a ticket to Hollywood thanks to viewer votes! Congratulations to Brittany. We'll be seeing more of her when American Idol returns in 2018!
Don't forget to join us on Facebook, Twitter, and get our Email Updates for more America Idol 2018!