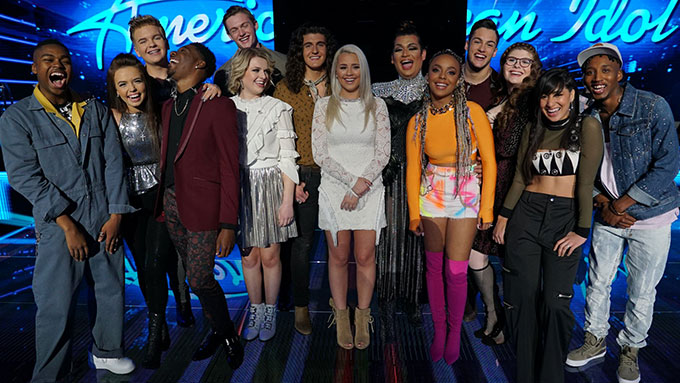 Tonight on American Idol 2018, the Top 14 will become the Top 10 after four contestants find out their Idol journey stops here.
Based on your votes from last night's performances, the six finalists with the most votes will automatically move on to the Top 10 and sing for America's votes next week. The remaining eight contestants will then sing for the judges, hoping to earn one of the remaining spots in the Top 10.
After everyone has performed, the judges will pick four people to join the others, regardless of how America voted for them on Sunday night. The judges' decision will be based on the performances from both nights (and I'm pretty sure based on all their performances to date … how can they not?). So expect any judges' favorites who aren't in the top six from the night to make it through regardless of their performances.
We will have 14 performances overall, though, as the six top vote-getters will also perform. They won't be singing for their lives, however, they'll be performing in celebration of making it to the Top 10 (hey, they have to fill that two-hour time slot some way).
So at the end of the night, the judges will decide who stays and who goes among those not saved by America's vote. There's no word if America will have any other say on social media like The Voice does and like American Idol season 15 did. We'll keep you posted on that.
Whose journey will end tonight? Be sure to tune into tonight's American Idol results show and our live recap. So be back here with us at 8 PM EST for all your American Idol 2018 results.
In the meantime, check out our American Idol Top 14 performances recap from last night, and also our Top 10 predictions, to see how many we get right based on tonight's results.
Want more American Idol? Join us on Facebook, Twitter, and get our Email Updates too!