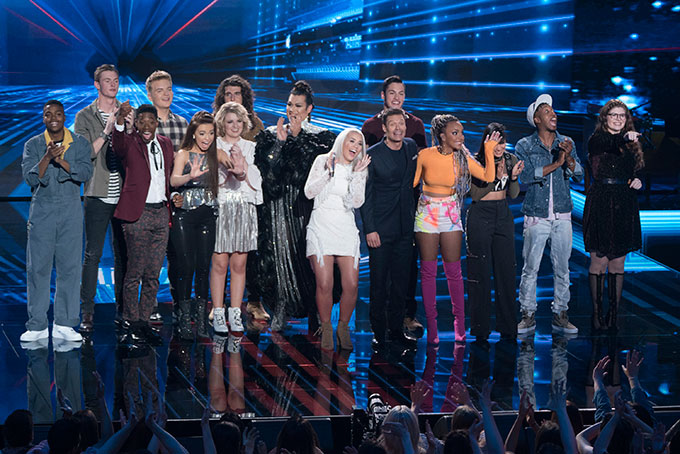 The American Idol 2018 Top 14 took to the stage Sunday night singing for America's votes for the first time. And for such a crucial moment, there were definitely some questionable song choices.
As always I'll be reviewing each performance and assigning the letter grade I think each one deserves. Let's get to it!
Caleb Lee Hutchinson, "Midnight Train to Memphis." I don't know this song, but I liked the way he presented it. I really liked the banjo. That seems like something we have rarely seen on American Idol, so I loved that. It wasn't a huge song, but it seemed just right for his voice. It was a good way to open the episode. He might have picked up a few new fans with that performance. Grade: B+
Michelle Sussett, "Friends." I don't quite get this song choice. She needed something with a lot more power and energy, since America is voting now. There were a few big moments, but for the most part, this would have been a middle song during a concert that no one really cared about. Grade: B
Marcio Donaldson, "It's a Miracle." Another song choice I don't get. And I love Marcio. This actually worries me. A lot. I'm not sure anyone watching will connect to the song. It's a cheesy Barry Manilow song. And I'm also afraid if he doesn't get enough votes the judges won't save him now after this song. Maybe I'm too hung up on the song. He's just such a great performer and his energy was there and his vocals are always there. Grade: A-
Mara Justine, "This Is Me." She was so nervous and it really showed more than the other three. She was shaking and her voice was shaky. She got over the nerves a little into the song, but I think overall, the nerves won out on this performance. And that song I'm not sure was a good one for her since it's not very well-known. I saw here really getting her spot in this competition last week, but I'm not so sure after this. Grade: C+
Garrett Jacobs, "Raging Fire." This was a smart song choice. Why not pick a song by one of the more popular later American Idol winners? And Phillip Phillips isn't a huge vocalist, either, so this was a good place for Garrett's voice. He did blow a lot of notes, though, which is something Phillip never did. I think the performance was pretty bad, but the song choice and his looks and charm will work wonders. Grade: C
[RELATED: FIND OUT OUR AMERICAN IDOL TOP 10 PREDICTIONS]
Ada Vox, "The Show Must Go On." Great song choice. I think it might be the first time on American Idol someone chose a Queen song when there wasn't a Queen theme. And that's a brave thing to do. Of course no one will ever be able to perform a Queen song like Freddie Mercury, but Ada definitely put her own spin on it. And her spin is a very powerful one. That started slow and tender and then exploded into a vocal masterpiece. Grade: A
Catie Turner, "Take Me To Church." What? She really picked this song? OK, let me sit back and see how this goes. Yeah, I was right to be apprehensive. It started out wel,l and I was like, oh she can really sing. But then when the song really kicked in, she missed the mark. It was super pitchy and there was a passion lacking that this song requires. It finally got there at the end, but it was a little too late for me. Grade: B-
Cade Foehner, "Black Magic Woman." I'm not sure Cade is in the right decade or even century, but he's in the right place as far as his music style goes. He's completely true to this classic rock vibe and it's perfect for him. And he might be one of the better guitar players to perform on the American Idol stage. Grade: A-
Dennis Lorenzo, "In My Blood." I was starting to worry this song was going to go no where, but it finally kicked in and Dennis brought out a passion we hadn't really seen in the other performers for the night at this point. Like almost everyone else tonight, the vocals weren't perfect and he didn't seem completely comfortable on stage, but it was a solid performance. Grade: B+
Maddie Poppe, "Homeward Bound." Well that was beautiful. I love her style. I love how authentic she is. I love how true she stays to herself. And she looked so comfortable and at home on the stage. This was just all really, really good. Grade: A+
Jurnee, "Bang Bang." This was a smart song choice. It's a well-known song that will catch the attention of young viewers – particularly young viewers who vote. And she looked like she was at her own concert. The vocals weren't perfect, which I found weird for her, but this one was all about the performance and presence, really. Grade: B+
Jonny Brenns, "This is Gospel." Where's his guitar? I think he's been without it enough and should bring it back. He seems way more comfortable with the guitar. I didn't get this song choice for him. He seemed less awkward with his moves this time around, but I still think something was just off about this one. Grade: C+
Michael J. Woodard, "Titanium." I love how unique Michael is. I'm afraid he is too subdued on stage normally, so it was nice to see him let loose on this song, I felt like he could have brought it even more, this was really good. I think he's definitely a pure artist. Grade: A+
Gabby Barrett, "The Climb." I understand that this show has already picked Gabby to win this season, but I'm still not buying into it. I felt like this was just a Miley Cyrus impersonation, only with less personality. Grade: B
American Idol Network's Top Performance of the Night: Maddie Poppe
What were your favorite American Idol 2018 performances from the night?