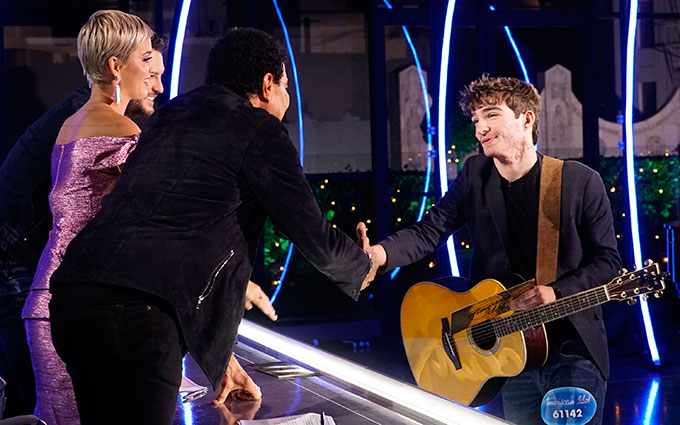 The American Idol 2019 audition rounds are officially complete. The judges found their last batch of hopefuls Monday night. Let's take a look at some of the standout auditions from Monday.
Jade Flores, 22, Texas. "Strawberry Wine." Jade has a great voice, but it seems like such a struggle for her. But I like her energy and her sound, and like Lionel said, she was actually entertaining. The judges sent her off to Hollywood!
Jakob O'Brien, 18, Alba, Oklahoma. "America." Well he loves America. I'm not sure American Idol is right for him, though. And nether do the judges. He's not moving on. 
Christiaan Patavan, 19, Long Island, NY. "Vienna." Good song choice. And he has a nice crooner sound. But can he make it work on American Idol? The judges give him the chance to see if he can do it. He's off to Hollywood!
Ryan Hammond, 25, Modesto, California. "Lay Me Down." I was bored a bit by the audition, but he is very talented. I think he could be entertaining, but I'll never really enjoy a Sam Smith song. Hopefully he can sing something more fun in Hollywood (which is also kind of what Katy Perry said). 
Chloe Channel, 16, Pace, Florida. "Stupid Boy." She sounds such much older than 15. I think her voice is really good. I really enjoyed listening to her. She got an easy pass to Hollywood. 
Emma Kleinberg,  21, Bel Air, Maryland. "American Privilege." I liked Emma's sound because we haven't heard a girl with her vocal style (which happens to be my favorite). I like when there's some grit there and they're not totally polished. I like her a lot. I'm glad the judges gave her a pass to Hollywood. 
Jorgie, 23, Los Angeles. "Heaven." I didn't expect Jorgie to have much of a voice, but he kind of did. I liked his sound. He's a very interesting performer, so I'd maybe listen to more from him. But what do the judges think? They loved it. He's off to Hollywood!
Nick Merico, 22, Miami, Florida. "Back to Black." He was OK. He's easy to look at and he has charisma, but there's nothing super special there. But he has the right look and focus, so he's off to Hollywood. 
Jared Sanders, 20, Georgia. "The Fireman." That was fine. Another guy singing country music, He's friends with Caleb from last season so the judges weren't just going to say no are they? Oh, they do. But they told him to come back another time. 
Jackson Gillies, 19, Santa Barbara, California. "Make It Rain." This was a soulful and emotional performance. Jackson seems to really have natural talent and despite what he's gone through, he doesn't seem phased. He's a natural. And he's off to Hollywood!
What did you think of the final round of American Idol 2019 auditions?