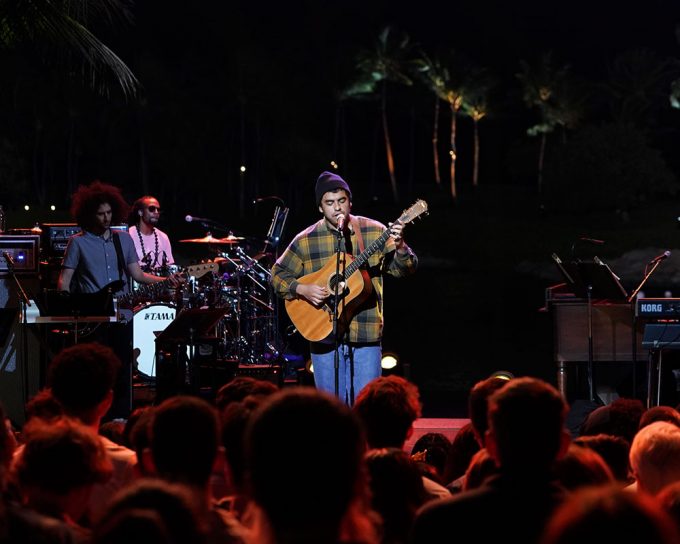 The American Idol 2019 Top 20 has officially been built after the Top 40 performed for the judges on the Hawaiian stage.
We have each aired performed recapped below, along with the judges' decision after each. Let's get to it!
Alyssa Raghu, "Dear Future Husband." This was a great song choice because it started slow and then kicked into gear. It really showed that she can sing but is also a performer. It got a little shaky in the middle and then all but fell apart, but there were enough good moments for her to make it I think.
Final Judgment: She makes it to the Top 20!
Madison VanDenberg, "Who's Lovin You." Madison is flawless as always. I'll say what I've said before about her: she is the best vocalist in the competition. So there is never going to be any real technical issues with her performances.
Final Judgment: She joins the Top 20!
Myra Tran, "How Far I'll Go." I think Myra has kind of fallen since her first audition. She KILLED it then, but in Hollywood Week it was just OK. And this was even less than just OK. Her lower range just isn't that great. I think this was probably just not the best song choice. It wasn't bad or anything, but going right after Madison kind of shows us who is the better singer.
Final Judgment: The judges cut her in favor of Madison
Logan Johnson, "Sorry." That was actually kind of a boring performance. I mean the Spanish was impressive, but that's not really a sing-y song. But he has a lot of charisma and is cute, so was that enough to impress the judges?
Final Judgment: He makes the Top 20!
Nate Walker, "Still." I love his energy and his charisma but I'm still not a fan of his voice. This was actually better because he didn't use his fake gimmicky voice a lot. If he'd always perform more naturally like this I'd be more of a fan. Wait, he just said he can already see Ryan saying "And the winner is Nate Walker…" Yeah, I'll never be a fan now. What did the judges think?
Final Judgment: He didn't make the Top 20 and I totally get it.
Dimitrius Graham, "Latch." Now this is singing, Nate. This is how it's done naturally and confidently without feeling like you're performing just to be famous. It's very effortlessly for Dimitrius and I can't figure out why we didn't hear him until the past couple of weeks.
Final Judgment: He's Top 20!
Ashley Hess, "Gone Away." Speaking of effortless, Ashley is just so natural. I didn't love this song choice for her, but she handled it so well and if she doesn't make it through it's a travesty.
Final Judgment: She makes it! She's in the Top 20.
Drake McCain, "Girl Likes You." Why would anyone on American Idol ever pick a Maroon 5 song? Only Adam Levine can "sing" those songs and even he shouldn't be singing those. So this was a disaster. And that makes me sad because I was really rooting for him. I think he blew it, but let's find out.
Final Judgment: He did not make it in the Top 20.
Kai The Singer, "Wild Things." You could tell it was her first time on a real stage (I mean she even moonwalked), but she really worked hard. The vocals were up and down, but I really like her and I think she just needs the right one to shine.
Final Judgment: She does not make the Top 20.
Laci Kaye Booth, "Georgia on my Mind." This was a little contrived for my taste, but once she got past the gimmick, it really become something. She has what so many people love, so she's a natural choice for this competition. I think I know what the judges are going to say.
Final Judgment: She makes it to the Top 20!
Nick Townsend, " Hold Back the River." Nick has been one of my favorites. So hearing that shaky start really bummed me out. The performance got a lot better at the chorus. It wasn't the best, but I'm still a fan. What did the judges think?
Final Judgment: The judges cut him. He's not in the Top 20.
And now for just some cuts: Kasen Lester, Johanna Jones, Clay Page were all sent home.
Walker Burroughs, "Youngblood." I'm sure the judges didn't love that he just sat behind the keyboard, but if that's the kind of perfumer you are then you should stay true to yourself. I don't think this was the song he should have chosen, but he is so good I don't care. He's a standout and we will see him a lot more than this.
Final Judgment: He's Top 20!
Ryan Hammond, "A Song For You." That was a powerful performance from start to finish. I've just been kind of passe on him so far, but this was really good. I enjoyed it a lot.
Final Judgment: He is in the Top 20!
Kate Barnette, "Royals." We didn't hear much of this, but I really enjoyed what we heard. She's a very quirky in a good way.
Final Judgment: She's Top 20!
Evelyn Cormier, "No Roots." Ugh. She claims she's not a one-trick pony, but it sure sounds like a one-trick pony to me. Not a fan of this performance or her as an artist.
Final Judgment: She's Top 20. Ugh.
Emma Kleinberg, "Is This Love." We didn't hear a lot of this performance, but it was a bit slow. I really like her, but I'm not sure she's the right kind of artist for American Idol, but let's see what the judges think.
Final Judgment: She did not make it in the Top 20.
Uche, "Play that Funky Music." Well this was the one performance that was an ACTUAL performance. I think whether he nailed the vocals or not didn't even matter. He put on a show, so he sold it and himself.
Final Judgment: He's Top 20!
Alejandro Aranda, "Yellow." He's so good. He can do no wrong. I do wish he'd rethink his style, though. He's definitely a guy who would never sellout, but this is American Idol and if you win, they will force you to rethink everything. So he either needs to compromise a bit now or just bail. That being said I think he's a flawless performer whether or not Idol is right for him or not.
Final Judgment: He's in the Top 20, of course.
Jeremiah Lloyd Harmon, "Landslide." I'm not sure why he was wearing those sandals on the stage, but I forgot that as soon as he started singing. He's who I'd pick right now to win the whole season if I was asked. He has the entire American Idol winner package.
Final Judgment: He joins the Top 20!
Shayy, "All I Ask." I know I'm with most of America watching this season when I say I love Shayy. She's just a special performer and I've been rooting for her since day one. Sadly, I think this song got away from her and after watching Jeremiah's final judgment and now hearing this I was ready to cry. I think this is the end for her. Let's find out.
Final Judgment: She did not make the Top 20. Bummed, but I understand after that performance.
Riley Thompson, "Mama's Broke Heart." She's cookie-cutter southern girl, so I find that boring, but she is exactly what the American Idol producers always look for so I have no doubt she's moving on.
Final Judgment: I was right, she's Top 20.
Also in the Top 20: Shawn Robinson, Raquel Trinidad and Bumbly.
Wade Cota, "Work Song." I can't listen to him sing. I think the judges loved it so I'm just going to move on.
Final Judgment: He's Top 20.
Margie Mays, "All About That Bass." This song was a big mistake for her. There's nothing about it that shows she can actually sing like we know she can.
Final Judgment: Yep, the song did her in. She's eliminated.
Eddie Island. "Don't You Worry You Child." Eddie is and won't ever be my style. Performing in bare feet? Come on. Nope. Not a fan of gimmicky crap. But whatever. Judges like him.
Final Judgment: He's Top 20.
Tyler Mitchell, "Suitcase." This was an OK performance. Male country singers aren't always the greatest vocalists so he doesn't have to work super hard. I think he won't make it over Laine though.
Final Judgment: He's going home.
Laine Hardy, "Come Together." A lot has really changed for Laine since last year. It's almost like he went to star school after getting cut last year. He's got such star power now.
Final judgment: He's Top 20!
And that's your Top 20!
American Idol 2019 Showcase/Final Judgment Photo Gallery