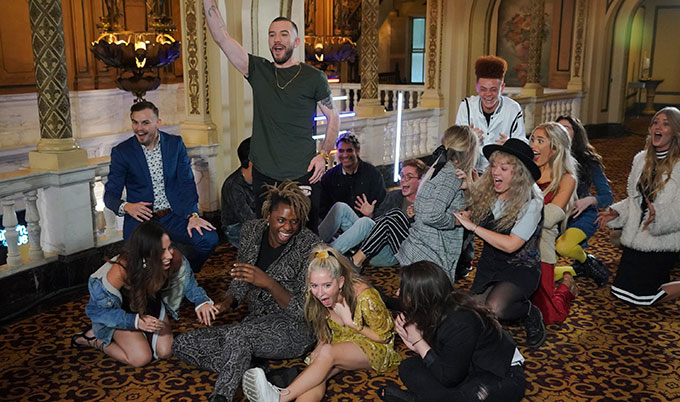 American Idol 2019 Hollywood Week concluded Monday night as 40 hopefuls were told they're moving on step closer to possible stardom.
First up, we got to see the last group performance and then we went right into the far more entertaining solo rounds. Let's take a look at the performances from the night.
Ain't Goin' Home – Nate Walker, Logan Johnson, Gazzie White and Ruthie Craft, "For The Longest Time." Well Nate is back. But he might as well not be. Because this whole thing is just OK, including Nate. I feel like we were supposed to think he was going to be an actual contender, but if you read back I haven't liked him from the jump. So I'm not buying this narrative.
The judges send all of them through, including Nate. For some reason.
And the group rounds are over. Thankfully. I hate group rounds. And about 70 people must now sing solos along with the band. And only 40 move on. This is where the judges can really see who can do this.
Let's get to the solo rounds!
Walker Burroughs, "Your Song." I really liked Walker's version of this song. It was just different enough to sound fresh and modern. Walker is a natural.
Juan Pablo, "Million Reasons." Well that wasn't good. I can't believe how good his original audition was and how lackluster he's been since. I don't think he'll be able to make it through with this performance.
Ryan Hammond, "All I Ask." Those were pretty good vocals, but it seems like such a task for him to sing that well. It's really not as natural as a lot of singers. But he has a lot of charisma and with the right songs he has a lot of potential.
Kai The Singer, "Lost Without You." That was such a haunting performance. She has some deep emotions and they come out when she songs. I really liked this audition. I'm rooting for her.
Riley Thompson, "Ring of Fire." We didn't get much from this performance but she's a natural country singer, so she has nothing to worry about.
Evelyn Cormier, "Wonderwall." I hate this performance and I hope we don't have to hear her perform all season long.
Eddie Island, "1974." This is an original, so that's a risk, especially since Katy Perry warned them about picking original songs. I I thought it was good, but I really want to re-style him and wash his clothes or something. The judges didn't love the original song.
Alejandro Aranda, "Ten Years." Alejandro has also chosen an original song. Will this be a mistake also? No, because Alejandro is a true songwriter. This showed who he is and the risk paid off.
Margie Mays, "Never Enough." You could see that she lost some confidence, but she still put her everything into the performance. We didn't get to hear a ton of the performance but from what we heard it was solid.
Wade Cota, "Stay." Another original song … and I don't care for the song or his style but the judges love him so I better get used to this.
Nate Walker, "Always On My Mind." Nate is feeling better, but does he sound better? He does sound a little better, but he still isn't doing anything for me. I was ready to mute him.
Tyler Mitchell, "Broken Halos." This doesn't seem to be the right kind of experience for Tyler and it is showing through in his Hollywood Week rounds. He is a good musician, but he needs to be all in or it's not going to work out.
Drake McCain, "Always On My Mind." This was much better than Nate. Drake is way more authentic and it showed in this performance. There wasn't anything huge in the performance or anything to bring anyone to their feet, but he's a great kind with a lot of talent.
Bumbly, "God Is A Woman." I have no idea who this is or why we haven't heard from her yet. Her performance was pretty solid. I liked what little we got to hear.
Nick Townsend, "In My Blood." I really like Nick. This performance wasn't perfect, but he has a lot of emotions and it comes through when he sings.
Gaba, "Jealous." We don't see hear of this audition, but she's a good singer, but there are probably singers better than her.
Jeremiah Lloyd Harmon, "The First Time Ever I Saw Your Face." Jeremiah is the only person in this completion that gives me goosebumps when he sings. To me, he is the perfect performer. And if he doesn't win this season, it could only be because voters are as wrong as his family.
Myra Tran, "I Put A Spell On You." I wasn't too into that. We didn't
see much of it, but what we did see was kind of all over the place.
Shayy, "Cry Pretty." I was really bummed that this wasn't the right song for Shayy. She's one of my favorites, but that just seemed to not be that great. But was it enough?
Laci Kay Booth, "Stars." She's not the best vocalist, but she's got a great sound and really good stage presence. I think she can get far in this competition.
Uche, "Stars to Your Beautiful." This was a little all over the place, but that's because he was trying to show all of his tricks in very little time. The good parts were really really good. He's a contender for sure.
Madison VanDenberg, "All I Ask." She decided to abandon her original song for this Adele song. And it paid off because it really showed what she can do. She is probably the best vocalist in the competition, so I don't think she really had anything to worry about either way.
Alyssa Raghu, "What About Us." I think this was supposed to be good from the way the judges were acting, but what little I heard it wasn't great. She does have better stage presence, so maybe that's what they were cheering for.
It's time for the judges to make their decisions!
Among those going home are Juan Pablo. Most everyone else featured above made it through to the showcase rounds.
Want to know who makes it to the live voting? Check out our American Idol 2019 Top 14 spoilers