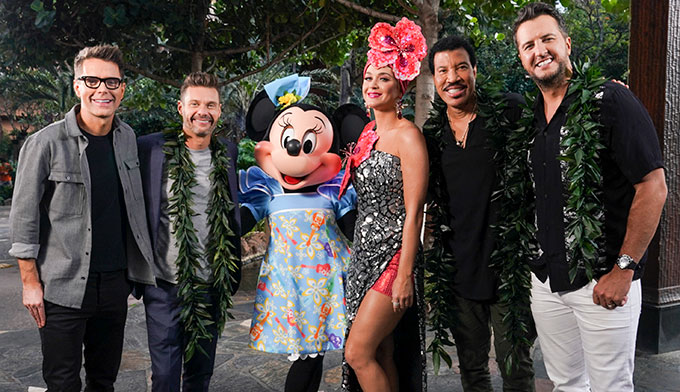 American Idol 2019 cut the field of hopefuls down to 40 Monday night. Next Sunday, that 40 will head off to Hawaii to sing for a spot in the Top 20. Thanks to all the usual Idol sleuths, we can tell you with confidence who makes it to the Top 20. And even though some of them are obvious choices, there are going to be a couple of cuts that fans will find shocking.
Let's take a look at the spoiled American Idol 2019 Top 20:
Females
Alyssa Raghu
Ashley Hess
Cristina Contreras
Evelyn Cormier
Kate Barnette
Laci Booth
Madison VanDenburg
Raquel Trinidad
Riley Thompson
Males
Alejandro Aranda
Dimitrius Graham
Eddie Island
Jeremiah Lloyd Harmon
Laine Hardy
Logan Johnson
Ryan Hammond
Shawn Robinson
Uché
Wade Cota
Walker Burroughs
So a couple of things we find surprising. There are more males than females. Which is odd for Idol since they try to avoid giving us too many white dudes with guitars to choose from. But I guess since the reigning winner is a female, it's OK this time around. But what's more surprising is that Myra Tran and Shayy get cut. They have been showcasing the two of them and letting us know how many hits their auditions have gotten on YouTube. Of course these decisions were all made before the episodes started airing, so the judges and producers couldn't have predicted their popularity.
In a old-school season, we could expect make a wild card choice to bring Myra or Shayy back, but that won't happen here on Idol 2.0. ABC has no extra time for extra contestants in this condensed format. Maybe one or both can try again next season – if there is a next season.
What do you think of the American Idol 2019 Top 20? Are you happy with it?
Also, if you want to go one step further on the spoilers, we already know the American Idol 2019 Top 14. So check that out by clicking the link.
SOURCE: The Idol Pad