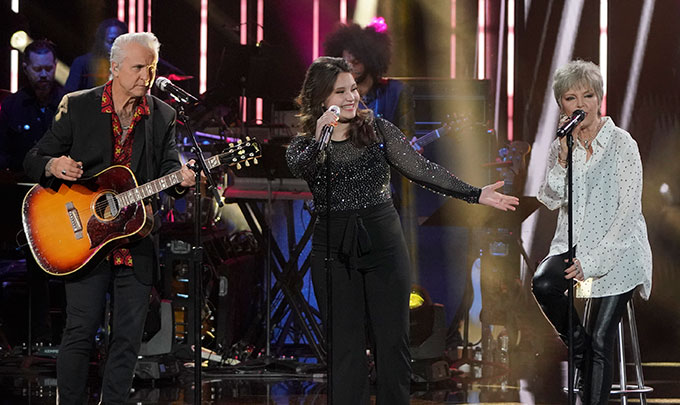 The American Idol 2019 Top 20, well half of them, took to the stage to perform duets with celebrity guests Sunday night. It was a crucial moment for the 10 hopefuls as the judges were set to eliminate three of them by the end of the night.
Here are the reviews and letter grades for each performances. Find out who went home at the bottom.
Walker Burroughs with Jason Mraz, "Have It All." Well what was most interesting about this was that Walker sounded better than Jason and it was Jason's song. Walker is definitely awkward, but he's comfortable on the stage and that helps a lot. I like him. This wasn't my favorite performance or anything, but there was also nothing wrong with it. And Walker has just a great presence. Grade: A-
Kate Barnette with Pat Benatar and Neil Giraldo, "Heartbreaker." Great song choice, first of all. But I can't say the same thing I said last thing. Pat was definitely better than Kate. Even Katy was talking about Pat and not Kate. But it wasn't a bad performance. It was just kind of a thing they did. It was fun to see Pat on American Idol, though. Grade: B
Riley Thompson with Brett Young, "Like I Loved You." I don't know this song, but one thing I want to point out here is when Ryan Seacrest announced Riley Thompson to us I was like "who is that?" I seriously forgot who she was. So I wonder if that's how her run on Idol will be. But anyway, about the performance … she's got a sweet voice and there is a hint of classic country queen in her voice, so I thought it was good. She just needs to try to stand out a little more and appear less nervous. Grade: B+
Uche with Shaggy, "I Need Your Love." I didn't like this performance much. I didn't care for the song or their dynamic. But Uche is very talented and I think he should stick around, but he's just not a duet kind of guy. He's definably a solo artist. Grade: B-
Madison VanDenberg with Pat Benatar and Neil Giraldo, "We Belong." Another great song. And this was a great one for Madison. I wish the arrangement had been a little more in Madison's favor, but she's a great singer, so she doesn't need a lot of time to prove that. Grade: A
Shawn Robinson with Elle King, "Proud Mary." That's weird that he didn't really have a say in the song. And then they change the tempo at the last minute. Yikes. And they probably should have let him pick the song because that was really boring and then did Elle blow the lyrics or was it him? Ah, it was him, according to Elle. Oh no!. Grade: C
Ashley Hess with Jason Mraz, "I'm Yours." I love Ashley, but this song is so boring. Let's see if she can make me enjoy it. Of course she did! She has that ability. She can take a song I will turn off from the radio within seconds a song I wanted to listen. She is just so good and this performance didn't disappoint. Grade: A+
Bumbly with Shaggy, "Angel." I still feel like we barely know Bumbly, so it's hard to even take this performance seriously since I know she's about to go home. It was good, though. I wish we had seen more of her throughout the past few weeks. Grade: B+
Laci Kaye Booth with Brett Young, "Mercy." This was super boring. And I know she's a great singer. This just did nothing for me. I think I'm just not a fan of duets or something. Grade: B
Laine Hardy with Elle King, "The Weight." Great song. I didn't love the arrangement though. And Laine got off to a rocky start. This was weird for me because Laine is usually amazing and this was just OK for me. That was just weird. Terrible arrangement. Grade: B
And now it's time for the results.
Safe:
• Laci Kaye Booth
• Ashley Hess
• Walker Burroughs
• Madison VanDenberg
• Uche
• Riley Thompson
• Laine Hardy
Eliminated:
• Shawn Robinson
• Kate Barnette
• Bumbly
What do you think of the results? Did the American Idol judges make the right decisions?