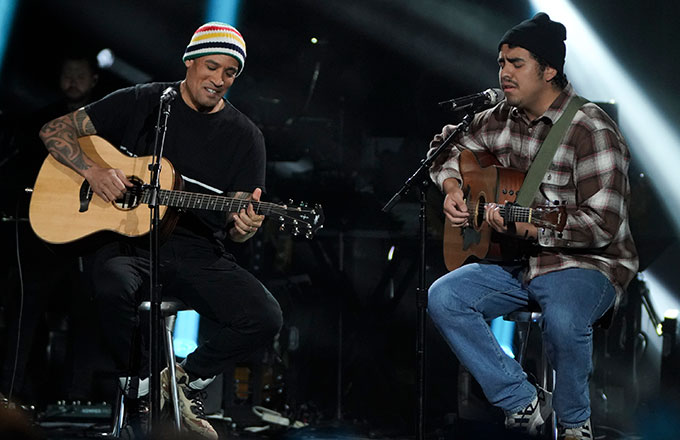 The second half of the American Idol 2019 Top 20 performed for the judges Monday night in a last chance to make the Top 14.
The 10 Idol hopefuls were paired with celebrity duet partners so let's take a look at those recaps and performance grades.
Alyssa Raghu with Julia Michaels, "Issues." Well that was incredibly boring. Everything about it was boring. Alyssa can sing. We know that. But if I'm just going to judge this performance, then I have to say this is probably my least favorite out of all 20 from Sunday and Monday nights. Grade: C+
Eddie Island with Lukas Graham, "7 Years." This was an interesting performance. Eddie is weird on purpose, so it's really hard to take him seriously. And he was supposed to show some emotion and vulnerably during this and he still didn't. He' just goofy and so I can invest in him. Grade: B
Wade Cota with lovelytheband, "Broken." I love this song, so I was happy to hear it on Idol, but I wasn't super happy one of my least favorite contestants was singing it. I just can't do Wade's voice. I've said that every time he's performed and I'm still standing by that. The judges just love him, though. I don't get it. Grade: B-
Ryan Hammond with Cynthia Erivo, "Hold On, I'm Comin." Ryan's big strong voice shined once again. But there's still just something slightly missing from his performances. He is almost perfect as a performer, but he's really hard to connect to, so I think that's why he is in going home this week. Grade: A-
Evelyn Cormier with Chris Isaak, "Wicked Game." Ugh. I want to be nice, but I can't with her and Wade. I'm never going to like their voices, but especially hers. Her voice is just so gimmicky and fake it makes me want to scream. But that voice aside, this whole performance was just boring. I kept waiting for it to turn into something but it never did. Grade: C
Logan Johnson with Julia Michaels, "What A Time." That arrangement was weird. He just stood there for far too long waiting to sing. So that was immediately distracting. But when his part finally came on, things didn't get much better. I love his presence and personality and his tender voice, but this just wasn't his moment. Grade: C+
Raquel Trinidad with lovelytheband, "Tiny Dancer." I want to give her an F just for never hearing of this song and her translation of it. How can you be an artist and not know these things? Anyway. The performance was pretty solid. And I knew, based on how we know very little about her, that she would be moving on. But that's kind of crappy since this performance was better than Evelyn's, Wade's and Alyssa's. Grade: B+
Alejandro Aranda with Ben Harper, "There Will Be A Light." Of course this was great. Because Alejandro is a genius. He's never not going to be good. It MIGHT eventually border on sleepy/boring, but it'll never be bad. This was just so effortless and natural. He's so good. Grade: A+
Dimitrius Graham with Lukas Graham, "Love Someone." Finally a well-matched duet. This was way better than I expected it to be. The harmony was incredible. Dimitrius is full of surprises and that's a special thing. They just really vibed well. Grade: A+
Jeremiah Lloyd Harmon with Cynthia Erivo, "Time After Time." That was beautiful. Jeremiah is a pro. This was definitely the best performance of both nights. I have nothing bad to say. He is a flawless artist. Grade: A+
And then it was results time. The judges had to make three more cuts.
American Idol 2019 Top 20 Duets Part 2 Results
Safe:
Evelyn Cormier
Dimitrius Graham
Jeremiah Lloyd  Harmon
Alyssa Raghu
Wade Cota
Eddie Island
Alejando Aranda
Eliminated:
Logan Johnson
Raquel Trinidad
Ryan Hammond
So that means your American Idol 2019 Top 14 are Evelyn Cormier, Dimitrius Graham, Jeremiah Lloyd Harmon, Alyssa Raghu, Wade Cota, Eddie Island, Alejandro Aranda, Laine Hardy, Uche, Riley Thompson, Walker Burroughs, Ashley Hess, Madison VanDenberg and Laci Kaye Booth.
What do you think of the Top 14? Did the judges make the right decisions? Who do you think will make it through to the Top 10 next week?