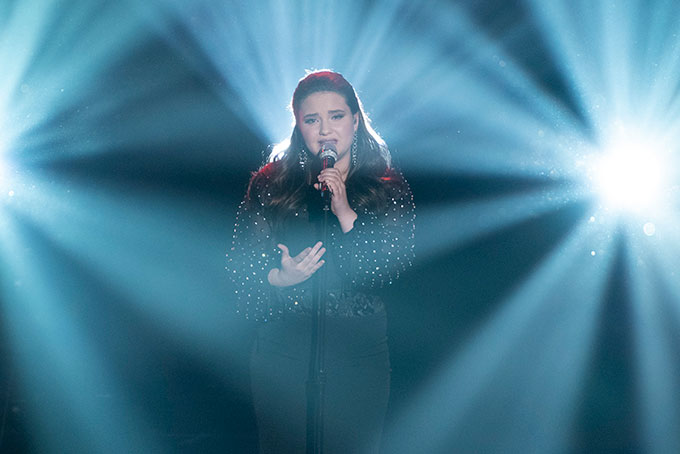 The American Idol 2019 Top 5 performed three rounds of songs on Sunday night as they hoped to earn one of the final 3 spots and sing in next week's season finale. After a lot of great performances, America's votes were revealed.
So let's take a look at the performances and the results. As always, I've reviewed and graded each of the performances.
Bobby Bones's Picks
Wade Cota, "You Are The Best Thing." What a tacky and dated song choice. But it suited Wade's gimmicky annoying voice, so Bobby did a good job. That was pretty boring even for Wade. Grade: B
Laci Kaye Booth, "The House That Built Me." Now this is a good song choice. It was just perfect for Laci in every way. It was sweet and tender like her and it really suited her voice. Grade: A
Alejandro Aranda, "No Woman, No Cry." Another good song choice. And it was good that he put his Alejandro spin on it. I'm glad after a few down weeks Alejandro is sort of back up again. Grade: A
Laine Hardy, "Can't You See." This is a song that suits Laine, but it was a little bit of a boring choice. But Laine did what he could with it and America seems to love him no matter how similar his performances are week to week, so he's just fine. Grade: A-
Madison VanDenberg, "What About Us." This is another pretty decent song choice. Bobby wanted to make sure she didn't hold back like she often does, so that was smart. He wanted to get some emotion out of her and it worked. I think she really felt it. Grade: A+
Elton John Songs
Wade Cota, "Rocket Man." Oh god. I can't with this. Sorry. I have nothing to say about it other than it was flat the entire time Terrible. Grade: D
Laci Kaye Booth, "Saturday Night's Alright." Well that wasn't as good as the first round. Laci isn't always the best at really up-tempo, but I still really like her. Grade: B+
Alejandro Aranda, "Sorry Seems To Be The Hardest Word." This was probably the best performance by him that wasn't an original song. It was nice to see him take a song like this and not completely turn it on its head but also still make it his own. I liked this a lot. Grade: A+
Madison VanDenberg, "Your Song." I'm glad someone sang this song. It kind of always has to be performed if you're doing Elton John week. And Madison handled it very well. It was tender and sweet and even a little fun, which is always how Elton delivers it. Very well-done. Grade: A+
Laine Hardy, "Something About The Way You Look Tonight." OK, this is not Elton's best song. It's kind of boring and tacky and that's two song choice duds for Laine tonight. And once again he just gave us Laine and nothing elevated. But you guys love him, so it's OK I guess. Grade: B+
Songs Dedicated to Personal Heroes
Wade Cota, "Hard Luck Woman." This was so much better than the last performance. And I felt like he was doing a little more singing in this one than usual, meaning he focused more on vocals than his gimmicky sound. Grade: B
Laci Kaye Booth, "Dreams." OK, she had me at the first few chords. I literally had goosebumps. But I'm a huge Fleetwood Mac fan. So this was the perfect performance to me. It's exactly the kind of music Laci should be singing. So sweet, so tender. So good. Grade: A+
Madison VanDenberg, "Make You Feel My Love." I actually thought this should have been better than it was. I think it was just the up and down arrangement that threw me off. I mean she's still a great performer, but the arrangement was just messy to me. Grade: A-
Laine Hardy, "Hey Jude." Well this was a smart song choice. Picking a Beatles song is never a bad idea. So at least it wasn't another iffy song choice. And he even made it into a moment. It started out like Laine always does, but when he got to the "Na Na Na's" he turned it into an event and it worked so much better. Grade: A+
Alejandro Aranda, "Blesser." I'll say it again, I'm glad Alejandro is back. I really don't know what was going on a few weeks ago, but it was like he had given up but now he's back. This original song was a risk because no one knows it, but it was so good I think no one know it doesn't really mater. Grade: A+
The Results
Safe and in the Top 3
Laine Hardy
Madison VanDenberg
Alejandro Aranda
There's no longer a judges' save in play as the used it last week on Laci Kaye Booth. Of course it also expired last week anyway.
Going home
Laci Kaye Booth
Wade Cota
Do you think America got it right? Are you happy with this American Idol Top 3?