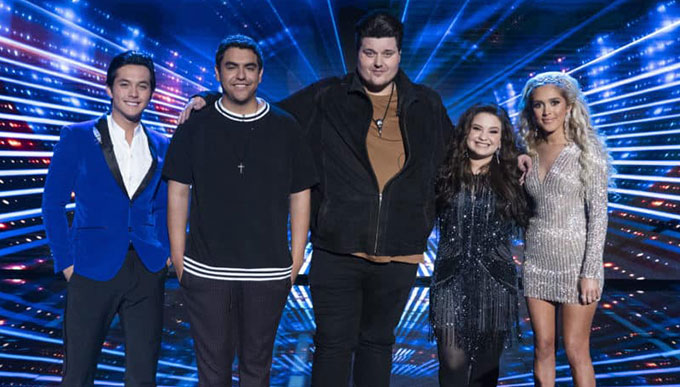 Tonight on American Idol 2019 the Top 5 will be singing three songs each and at the end of the night we will know the three contestants heading to next week's season finake!
The journey to find the next superstar continues as the remaining five Idol hopefuls leave it all on the stage, singing their hearts out to win America's vote and land themselves a spot in the coveted "American Idol" season finale. In this episode, each contestant will perform three songs: a pick from in-house mentor, Bobby Bones; a song dedicated to their heroes in honor of Mother's Day; and a selection from Elton John's world-renowned catalog. To help prepare for this week's theme, contestants will be the first to watch the highly anticipated feature film "Rocketman," an epic musical fantasy about the uncensored human story of Elton John's breakthrough years. The jam-packed Idol episode airs SUNDAY, MAY 12 (8:00–10:01 p.m. EDT/5:00-7:01 p.m. PDT), on The ABC Television Network, streaming and on demand.

After making history last season as the first reality competition series on American television to allow viewers to watch and vote from coast to coast simultaneously, "American Idol" continues its simulcast once again in all time zones across the country. For this episode, viewers will be able to vote by text, via AmericanIdol.com/vote and on the "American Idol" app during the show. Results will be revealed at the end of the show in real time, across all time zones. The episode will be rebroadcast during its normal time slot on Sunday at 8:00-10:01 p.m. PDT on the West Coast.
Be sure to join us back here tonight for our live American Idol results coverage. We will deliver to you the results as they happen and then a little later you will get our full recap of the night's performances and outcome.
Who do you hope makes it in to the American Idol 2019 Final 3? Who should win this season?