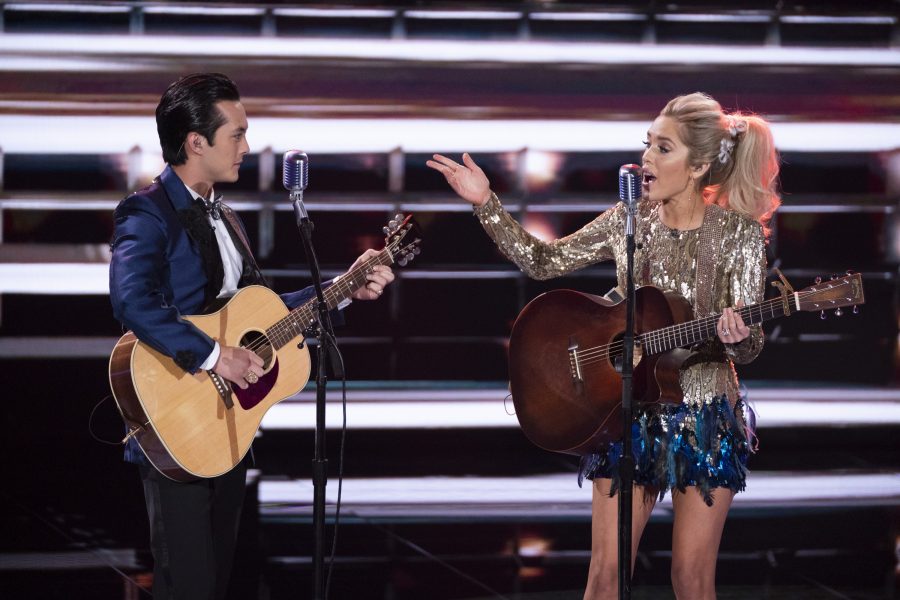 It was Queen night on American Idol 2019 and the Top 8 took on some of the greatest songs from the legendary band. And all of the song choices really worked, too, which is rare for Idol.
We were also treated to some duets from movies, so we have a lot of recap to get to. As always I'll recap every performance and assign the letter grade I think each deserved. 
Walker Burroughs, "Crazy Little Thing Called Love." This was a smart choice for Walker. He really needed something more upbeat that forced him to move around. I think this was one of his more entertaining performances. It wasn't perfect or anything, but enjoyable. Grade: A-
Madison VanDenberg, "The Show Must Go On." For the record, this is the song I thought she should sing. And it was such a good choice for her. It was probably my favorite performance of hers all season. She was able to do what she wanted to do and that was command the stage.  That was a definite diva moment. This was very good. Grade: A+
Laci Kaye Booth and Laine Hardy, "Jackson." This was a good choice for them. Actually, I think Laci nailed it. Laine was good, too, but Laci just really owned the performance. I do wish we could hear them better, but that was a production issue. Not sure why the sound is never great. You think they could do better with the sound on this show. Grade: A
Jeremiah Lloyd Harmon, "Who Wants to Live Forever." OK, I'm not trying to brag, but this is also the song I picked for Jeremiah. It is the perfect song for him and I'm glad he picked it. I thought this would have been a good one for the piano, but he didn't give us that. But he gave us an intense and touching vocal. I loved it. As always. He is just so good. Grade: A+
Alejandro Aranda, "Under Pressure." I think Alejandro has returned. The past couple of weeks he was slightly off, but he has come right back to where he started. I'm not a fan of changing up such great songs, but this was a really good arrangement. But he still just seemed really nervous. Grade: A
Alyssa Raghu and Wade Cota, "Ain't No Mountain High Enough." What a strange pairing. I think I'm just going to mute it and give it a B+ and move on. Grade: B+
Jeremiah Lloyd Harmon and Madison VanDenberg, "A Million Dreams." This was a great pairing and a perfect performance. Those two were made to sing together. Definitely the best duet of the night. Grade: A+
Laine Hardy, "Fat Bottom Girls." This was a good choice for Laine because it forced him to be more commanding of the stage. He still seemed a bit reserved and nervous, but the vocals were great and so was his energy. I wish it seemed a little more authentic, but it was still really good. Grade: A+
Laci Kaye Booth, "Love of My Life." Another one of the songs I picked correctly. And it was such a perfect song for her. It was so sweet, so tender and so emotional. Her voice is so unique and it really worked so well with this song. Grade: A+
Alejandro Aranda and Walker Burroughs, "Mrs. Robinson." Well I couldn't even hear them because for some reason this show refuses to fix the sound so I have no idea how it was. I'll just give it an A+. This is ridiculous, ABC. Grade: A+
Wade Cota, "We Are the Champions." I still think he should have picked "Hammer to Fall," but this is a better known song and that was a smart move. I've made it no secret I'm not a fan of Wade's. I just have an aversion to his voice and I cannot help it. I'm glad the judges love him and some of America, though. He seems to really love performing and I can appreciate that. But even if I didn't liked his voice, tonight's vocals were just way off. He was flat and he even blew some lyrics at one point and was had of the band a couple of times. This was basically a disaster and I have no idea why the judges stood for that.  Grade: D
Alyssa Raghu, "Somebody to Love." This was a completely fine performance. I don't think she quite connected like she should and I don't find her to be a very exciting performer overall, so it wasn't my favorite performance of the night. The vocals were solid and she was very comfortable on the stage, but I'm going to forget about this performance in about an hour. Grade: B+
And now it's time for the real drama. 
American Idol 2019 Top 6 results
Safe and in the Top 6
Jeremiah Lloyd Harmon
Laci Kaye Booth
Madison VanDenberg
Laine Hardy
Alejandro Aranda
Wade Cota
The judges were given the chance to save one of the bottom two and they once again decided not to use the save.
Going home
Walker Burroughs
Alyssa Raghu
What do you think of the American Idol Top 6 results? Did America make the right decisions? Are any of the Top 6 surprising to you?
What did you think of the American Idol Top 8's performances? Did America and the judges make the right decisions?