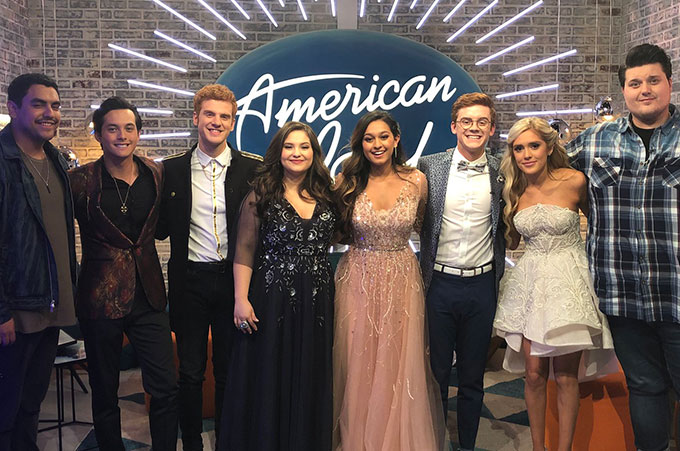 Tonight on American Idol 2019 the Top 8 will pay tribute to the legendary band Queen. They will also be pairing up with each other to perform duets from movies.
Also on hand as guest mentor is Idol alum Adam Lambert who is currently touring with Queen.
And once again, you will be voting in real time, America, so your votes are more important than ever as the two people with the least amount of votes by the end of the night will be going home unless the judges use their one save to keep one of them around.
From ABC:

The "American Idol" finalists continue their journey in the competition, paying tribute to one of the world's most iconic bands, Queen. In this episode, each contestant will take on a song from the legendary Queen catalogue, before partnering up for classic movie duet performances. Helping to prepare the Top 8 to rock the stage is "American Idol" alumnus and GRAMMY®-nominated artist Adam Lambert, who acts as celebrity guest mentor. Since first appearing on "American Idol" in 2009, Lambert has gone on to release four albums, has appeared in numerous hit television series and is currently touring the U.S. with Queen. The journey to find the next superstar continues SUNDAY, APRIL 28 (8:00–10:01 p.m. EDT/5:00-7:01 p.m. PDT), on The ABC Television Network, streaming and on demand.

After making history last season as the first reality competition series on American television to allow viewers to watch and vote from coast to coast simultaneously, "American Idol" continues its simulcast once again in all time zones across the country. For this episode, viewers will be able to vote by text, via AmericanIdol.com/vote and on the "American Idol" app during the show. Results will be revealed at the end of the show in real time, across all time zones. The episode will be rebroadcast during its normal time slot on Sunday at 8:00-10:01 p.m. PDT on the West Coast.
Be sure to join us back here tonight starting at 8 PM EST as we give you our live results of tonight's show. And then a little later we will have the full recap from the show.