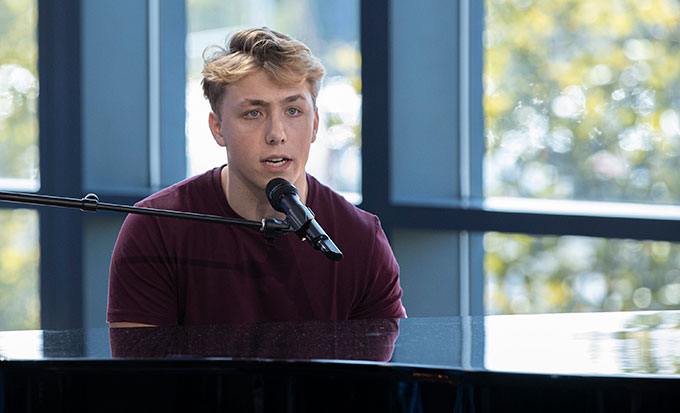 American Idol 2020 kicked off Sunday night, and based on the huge mention of last season's runner up Alejandro Aranda, America might have made the wrong choice last year. Seriously, they mentioned winner Laine Hardy for about 5 seconds, then had a whole montage dedicated to Alejandro and a phenomenon this season they're calling the Alejandro effect. It seems he has inspired a lot of musicians who never quite saw themselves as a pop star to come in off the streets and bars and audition for Idol. And that excites me. I hope we see more Alejandros!
Let's take a look at some of the stand out auditions from Sunday night's premiere of American Idol 2020.
Camryn Leigh Smith, "Big White Room." The 16-year-old church worship leader really shocked me with her vocals and guitar playing. I didn't expect that from her. She's a natural and it was very effortless for her. Luke Bryan compared her to Katy Perry, so needless to say she got an easy pass to Hollywood!
Doug Kiker, Bless the Broken Road." I'm not sure why they made such a big deal out of this audition because he wasn't that good and has literally no experience. If this show was how to take someone and make a star from complete scratch, he would be a great contender. There's an interesting story there though, so it all seems like good TV. So he's off to Hollywood.
Francisco Martin, "Alaska," What a pure singer and guy. He has that sound that is popular this days and he has a good look, so he's definitely marketable. I'm not sure he could win the show, but he definitely has what it takes to make it to Hollywood Week and beyond. He got an easy pass to Hollywood.
Nick Merico, "You Say." Nick is back again after a very confident audition last season. He backed out from Hollywood Week last year, though. And since he has a history in show business, I'm guessing last year he thought he had a new gig and that didn't pan out so now he's back on American Idol for more exposure. So anyway, he's good, but too cocky and not enjoyable TV. But they like him, so he's off to Hollywood once again.
Arthur Gunn, "Girl From the North Country." I wasn't sure what to expect from this guy, but it ended up being pretty incredible. As the show edit let us know at the top of the episode, the Alejandro Aranda effect is in play, and it's showing. This guy is as unassuming and shockingly plain-looking as Alejandro and can sing as well too. He has a beautiful sound and I bet he goes far this season. He gets his pass to Hollywood.
Louis Knight, "Changes." Louis isn't the best vocalist I've ever heard, but I think he has the whole Harry Styles vibe with his whole accent and everything. I think there's a definite spot for him in the business and he would be completely unique to American idol. The judges seem to think so too (Luke even said he could be the biggest star they've had), so he's off to Hollywood.
Saveria, "Tell Me This Is Real." I was into this audition. I liked her sound and her vibe and her original song was very well-written. I was looking forward to hearing more from her, but only Katy gave her a yes, so she's not going to Hollywood Week.
Meghan Fitton, "Love Where You're At." She clearly has a talent, but her fake gimmicky sound really doesn't match her. I guess it's just an audition and she's in street clothes, but there was this Amy Whinehouse sound in her voice and it just didn't seem natural coming from her. And there were definite pitch problems, but Luke loved her soul and grit. So she got an easy pass to Hollywood.
Samantha "Just Sam" Diaz, " Rise Up" American Idol is already promoting her, so we knew to expect something good from her. And even though she got off to a rocky and emotionally nervous start, her talent really shined through. She has so much power and the ability to connect. And we will be seeing her in Hollywood.
What did you think of the talent so far on American Idol this season? If you don't want to wait to find out who makes it beyond Hollywood Week, check out our American Idol 2020 Top 20 Spoilers.