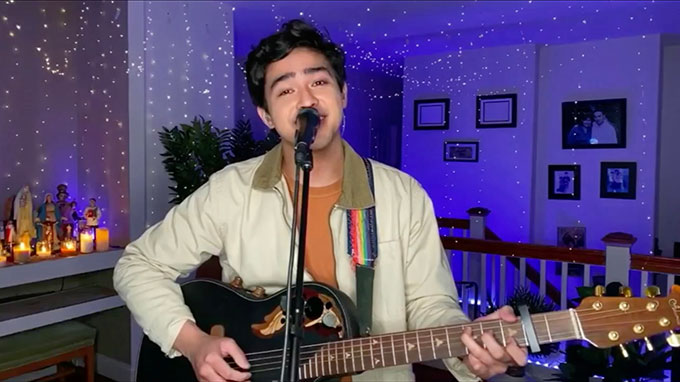 The American Idol 2020 Top 11 took to their bedrooms, porches and garages once again to sing for America's votes. This week, the theme was "Home," and we got a lot of touching performances.
It was a Top 11 because the judges decided to use their one save, whether or not they made the right choice or not, here we are.
As always, I'll be reviewing each performance and assigning the letter grade I think each deserved. Let's get it!
Louis Knight, "In My Place." Like Luke Bryan said, I wasn't blown away by Louis' performance this week. I think it wasn't the best song choice, but he did seem to be emotionally connected to the song, so that counts for something. And he's also being really pushed as the full package pop star, so he should be fine. Grade: B+
Julia Gargano, "New York State of Mind." This was a great song choice. It really works with the theme since she's homebound in New York. And as for the vocals, they were spot on. I closed my eyes a few times and I couldn't tell at all that she was singing in her bedroom. Grade: A
Jovin Webb, "Voodoo." Another good song choice that works with the theme, but isn't actually specifically about home. It woks for him because he's in Louisiana. I'm glad Jovin made it through, but I am surprised her did. And he showed with this performance that he is very deserving of the Top 10. He's a natural artist. Grade: A-
Grace Leer, "Somewhere Over the Rainbow." I'm not sure about this song selection with the theme, but I like Grace, so I won't dwell over it. But it is a familiar song, so it might have been a smart choice. People like voting for songs they know. And I've never heard this song with a country angle. I liked it. Grace has one of the strongest voices in the competition, so she can't really do any wrong. Grade: A
Jonny West, "Faithfully." Again, I don't get the song matching the theme, but you can't go wrong with Journey. America seems to love Jonny, though, so he could probably sing anything and be OK. This was a nice, sweet and tender performance. Grade: A
Sophia James, "In My Room." Now this is a good song choice. It matches the theme very well, and it's one of the best songs by the Beach Boys. But I wasn't a big fan of the performance itself. I have a real problem with singers who don't enunciate and she was not enunciating at all. The words all blended together and I couldn't connect to the song at all. I thought it was absolutely terrible. I considered grading it even lower than this. Grade: C-
Arthur Gunn, "Take Me Home, Country Roads." This was another appropriate song choice. And I think it's going to appeal to a lot of voters. And the arrangement was one I never thought I'd hear with this song. Last week I wasn't sure what was going on with Arthur, but this week he is back. That was a great and entertaining performance. Grade: A
Just Sam, "Grandma's Hands." What a touching and perfect song choice considering she can't be at home with her grandmother. And her vocals were the best they've been, I think. The whole thing seemed so effortless. Grade: A
Dillon James, "Yesterday." Another solid song choice. You can never go wrong with The Beatles (well, as long as you don't totally butcher it). And he didn't butcher it at all. I thought it was a smart performance because it felt very singer-songwriter, but he also showed he can really sing. He's just got the whole package going for him. Grade: A
Francisco Martin, "Falling Like The Stars." Francisco is one of my favorites this season, and I hope this song choice wasn't a mistake. I just didn't relate to the song, but his voice and presence is just so perfect. He is so sweet and humble and easy to listen to. I'm a fan. Grade: A+
Makayla Phillips," The House That Built Me." I didn't agree with this save because I thought it should have been Lauren Spencer-Smith. But picking a country song was a smart move since there's only one country singer this season. But as for the vocals, I wasn't impressed. Her voice was thin and the whole performance was kind of boring. Grade: B-
What did you think of the American Idol 2020 Top 11 performances?