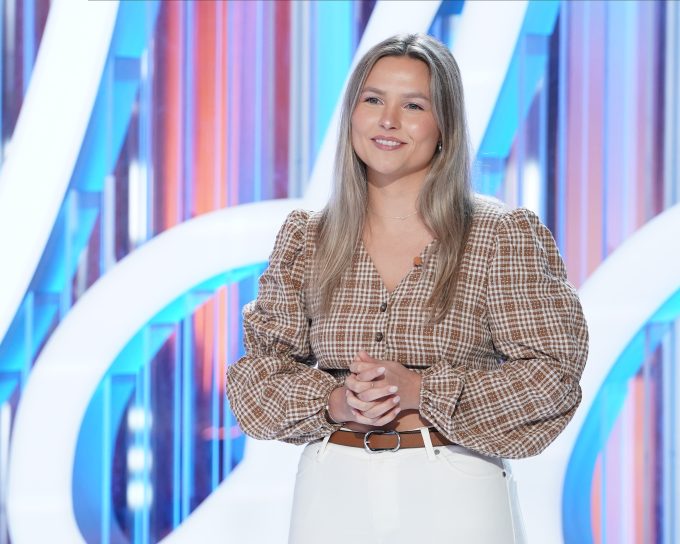 Sunday's American Idol gave us plenty of great auditions. Some left us with goosebumps, others brought tears to our eyes, and a few let the spirit of Broadway take them away. American Idol 2023 also balanced the amazing auditions with some good but not stellar performances. These people did well but we can't say they left us breathless.
Some of these auditioners may change our minds during Hollywood week, and others who didn't make it this time may prove the judges were wrong by auditioning again during another season. American Idol 21 really showcases the incredible talent in America and all over the globe. We can't wait to see more auditions in the upcoming weeks.
Let's look at the best American Idol auditions from episode 3. 
Wé Ani "Anyone" by Demi Lovato 
When Wé Ani started her audition, her sound reminded me of Macy Gray, so I expected her to have a similar sound. She did not. The best part of Wé Ani's Idol audition is that the editors and producers set her up to blow us away. Her speaking voice sounds perfect for animated movies or shows, so we had no clue that she was such a powerful vocalist. Wé Ani has such soul and emotion when she sings. It gives us chills.
Her whole performance captivated and delighted me. She's one of the current Idol contestants that I'll be watching closely to see how she does on the show. I hope she goes far.
Marybeth Byrd "If It Hadn't Been for Love" by The SteelDrivers
Marybeth Byrd is one of the contestants that we got an early sneak peek of her voice and talent. Since she already made it pretty far on The Voice, it's not a surprise that she's great. However, she manages to do so much in her short minute+ audition. She gives an engaging performance that keeps you glued to her the entire time — even while Luke Bryan starts to lose it because she's so good. It's not easy to make an upbeat song so riveting, but she does it.
Marybeth also shows so much of her vocal range in her audition without overdoing it and without giving the judges everything. You just know Marybeth is going to kill it during the live performances.
Olivia Soli "Hello" by Lionel Richie 
Olivia Soli's pitch isn't perfect, but when she hit the notes, it's so good. As Lionel Richie himself said, she completely makes "Hello" her own thing. This creates a very engaging performance. She's also not afraid to push her voice as far as it can go. This is an audition for one of the biggest shows on television, so Olivia wants to show everything. Not leaving any crumbs left on the stage.
Olivia Soli is going to be a great ballad singer. I can't wait to hear her sing many other great ballads during her American Idol journey. There is so much soul in her voice.
Elijah McCormick "Bless the Broken Road" by Rascal Flatts
Elijah McCormick's voice has so much character, so much soul, and so much emotion in it. It grabs you from the first note and doesn't let you go. Elijah is a standout talent that will go far. His story combined with his powerful vocals just make him one of the American Idol 2023 auditions that will stick with you long after this season.
I hope Elijah doesn't stumble at any point during Hollywood week because I really want to see him get the chance to sing live. He deserves it and it would be a good chapter in his life, especially with his devastating journey so far.
Preston Duffee "Something To Write About" by Preston Duffee
Preston Duffee isn't technically perfect but he has a great country music sound. He's also a great songwriter because his original song could easily play on the radio right now. It's a beautiful song inspired by Preston's mother but could fit as just a general song about overcoming hardship. It's a song that touches your soul because it's so moving and profound.
There are a lot of interesting country singers so far, so not sure how Preston will do overall. However, whether he makes it far or not doesn't matter because I think his song will resonate with a lot of people and probably chart one day.
Honorable Mention
Keelin "Don't Call Me" by Keelin
Look, I fully accept that this is a controversial choice, but I stand by it. I'm a sucker for bubblegum pop at times, especially when it's really fun and silly. Is Keelin going to make it far in American Idol 21? I highly doubt it, but is she going to enjoy her journey and bring lots of energy and fun? Absolutely. It's also not easy to write original music. It's even harder to write stuff that sticks in your head.
I was singing "Don't Call Me" right after she finished it. I am going to cheer Keelin on all the way until her journey ends. Let her enjoy herself because sometimes life is just about singing a fun pop song on a big singing competition show.
Make sure to join us most Sundays at 8/7c for more American Idol 2023 recaps. Also, add us on Facebook and Twitter for all Idol-related updates.