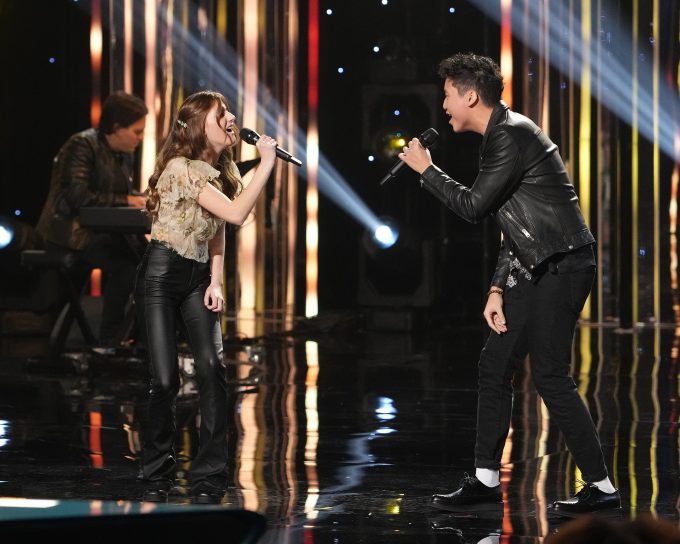 American Idol 2023 Hollywood Week part 2 starts now. We'll see plenty of unique, fun, and mesmerizing duet performances. The duet Hollywood Week round involves the contestants pairing up to perform a song together. Then the American Idol judges Katy Perry, Lionel Richie, and Luke Bryan must decide if all contestants in the group go on to the next round or only one, two, or none of them.
There are so many great singers that this will be an abundance of great duets tonight. A few of the duet pairings include Iam Tongi and Oliver Steele, Kaylin Hedges and Tyson Venegas, and Elijah McCormick and Lucy Love. These are just three of the many great pairings that we'll see tonight.
We'll also get to see all of the four Platinum Ticket holders perform for the first time during Hollywood Week. We'll see if having a bit of a break helps or hurts their performance during the duet section. It's going to be 2-hours of great performances, drama, and brutal cuts. Sit back and enjoy the ride.
The Duets
The duets are here to make you stop and listen. Tonight we'll see if these contestants can work together to ensure that they both (or multiple people) make it to the next round. It's only a few more cuts before the live performances, so every little note and decision matters. 
The first of the duos to sing together is Lucy Love and Elijah McCormick. They sing "My Girl" by The Temptations. They both get a chance to showcase their voices with their solo section, and they harmonize really well together. They also add some dancing and playfulness to their performance. Katy said she never heard "My Girl" like the way they sang it. They both go to the next round.
Nutsa and Carina DeAngelo have issues because Nutsa went to bed, but Carina wants to practice it more because the arrangement is made to suit Nutsa more than her. Nutsa is confident in her part, but Carina thinks they need more practice and that the arrangement doesn't suit her vocal abilities. Their issues continue during the day of the performance because Nutsa wanted Carina to also dress a certain way. They sing "I Put A Spell On You" by Jalacy "Screamin' Jay" Hawkins. Lionel and Katy say that it was underwhelming and they couldn't give each other the energy that the performance needed. Carina is cut and Nutsa gets to move on to the next round.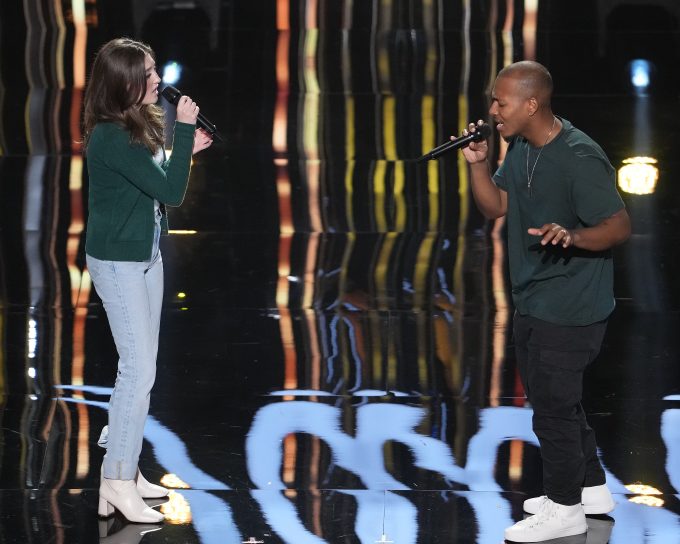 Matt Wilson and Elise Kristine sing "You Are The Reason" by Calum Scott. It gets a standing ovation from the judges. Luke calls Matt one of his favorite voices since he's been a judge on American Idol. They both go through to the next round. Hannah Nicolaisen and Warren Peay sing "It's Your Love" by Tim McGraw. They also get a standing ovation. Luke thinks it had a lot of magic. He thought they really made it their own. They also both move on to the next round.
Zachariah Smith and Isaac Brown sing "I'm Still Standing" by Elton John. They struggle to remember their lyrics during their rehearsals. They both take out their phones to read their lyrics during the performance. The judges don't want them to use their phones. Katy says to just sing. They decide to not use their phones, and they struggle to recall the lyrics. Despite their struggles, the judges allow them to go to the next round.
Tyson Venegas and Kaylin Hedges decide to perform together and they're both platinum ticket holders. They sing "Don't Stop Me Now" by Queen. They both go to the next round. Preston Duffee and Jon Wayne Hatfield have become close friends over this experience, even getting the same tattoo. They sing "Buy Dirt" by Jordan Davis and Luke Bryan. Jon is a little nervous singing the song in front of the man who made it. The judges think at points it's hard to distinguish their voices from one another but one clearly sings better than the other. Jon Wayne is cut but Preston goes to the next round.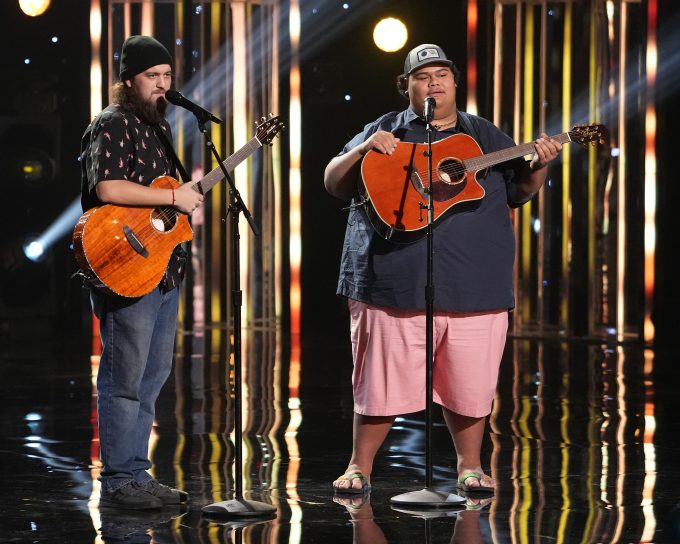 Oliver Steele and Iam Tongi were both inspired by their fathers to perform. This allows them to bond and decide to perform together. Iam is a little anxious about the performance and then his guitar (given to him by his dad) breaks.  He must use another guitar and he starts not to feel confident about this performance. When he comes on stage, the judges ask Iam about his guitar and he starts to get emotional. He tells the story of why the guitar means so much to him and the judges promise to fix it for him. Oliver and Iam sing "Save Your Tears" by The Weeknd. Luke says he loves what they bring to the table. He says they bring butter. They both go to the next round.
Adin Boyer struggles to find a partner because of his social anxiety as someone on the autism spectrum. He's the only one without a partner, so Jayna Elise and Summer Joy pull him into their group. They're the only trio. They struggle with trying to harmonize during the rehearsals. They sing "I'm Still Standing" by Elton John. The judges compliment them on their confidence in this performance. Lionel gives Jayna and Adin the advice to give more with their vocals. They all go through to the next round.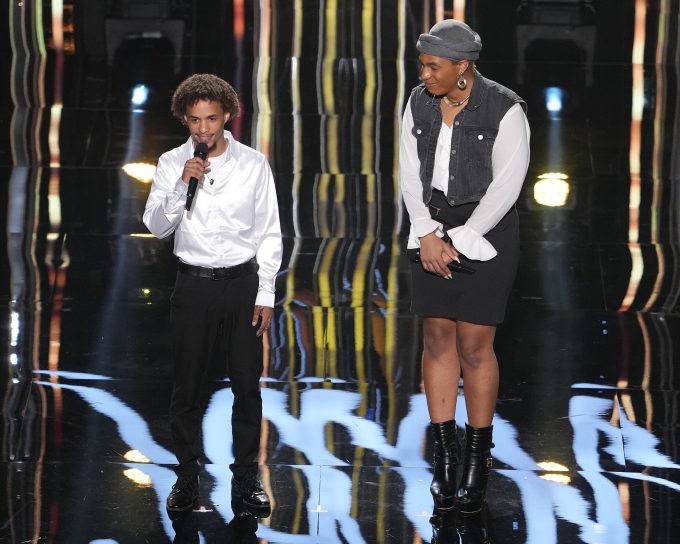 We Ani and Pjae sing "Hit 'Em up Style (Oops!)" by Blu Cantrell. They wanted to give the judges a show. Katy says they never had more fun watching a duo. She says if they don't win American Idol, they should become a real musical duo. They both go to the next round. Cam Amen and J. Valerione are paired to work together. They bond over both dealing with struggles like being unhoused and the foster system.  After only practicing some, J decides to withdraw from the competition, but Cam keeps practicing on his own. However, J returns on the day of the performance. They want a second chance from Cam.  They struggle to make it through the final few hours of rehearsals.
They sing "Listen to the Music" by The Doobie Brothers. Katy tells Cam that it was a struggle but they let him go on to the next round. They also let J continue to the next round. Katy also calls them a leader. Kaya Stewart and Fire are planning to sing together, but Kaya gets sicker and sicker the next before their performance. This makes practicing harder for them. Kaya and Fire get on the stage to perform, but Kaya tells the judges that she's too sick to perform. She drops out of the competition.
Fire is left standing alone, but Jayna volunteers to sing with her (after the judges ask someone in the crowd to sing with Fire). They sing "Whataya Want From Me" by Pink! Fire breaks down mid-performance, which causes the judges to break down as well. They let her go on to the next round.
Next up: the Showstopper rounds where the contestants will become the top 24 Idol contestants and begin the live performances rounds.
Make sure to join us Sunday and Monday for more American Idol 2023 recaps. Add us on Facebook and Twitter to keep up with American Idol 21.