American Idol alumni and famed plus size model Joanne Borgella announced on Facebook this weekend that she has been diagnosed with cancer. Joanne made it to the Top 24 on American Idol season 7. After she was eliminated, she went on to sign with Wilhelmina Models plus size division and has been featured in numerous modeling campaigns and magazines.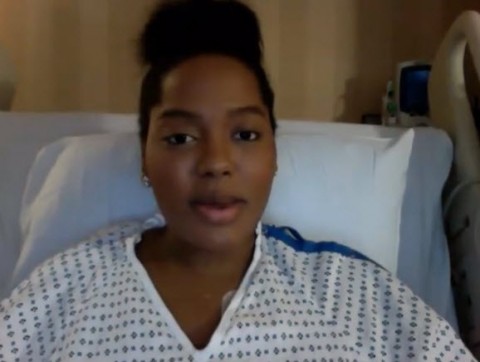 In a video posted to Facebook on Saturday, Joanne Borgella revealed that she was diagnosed with cancer several weeks ago. The announcement was filmed in the hospital where she was undergoing chemotherapy treatment for the disease.
"It's been crazy. It's very unexpected," she says in the video. "I'm 31-years old. I go to the doctor and got my checkups. It's a rare case because it's spread to my chest… but it's really not about a stage [of disease]. God is with me and I feel his presence every day. I just wanted to share this information with everyone to let them know what I'm going through and I'm going to update everyone every week as much as I can."
Despite her diagnosis at such a young age and the scary nature of her illness, Joanne maintains a positive attitude about the future. "I feel good knowing that God is with me," Joanne says in the video. "Everything happens for a reason and I believe that this is part of my journey in life. I just ask everyone to pray for me because the power of prayer truly, truly does work."
Joanne, who is of Haitian descent, began singing when she was 3-years-old and performed in Bugga Basements with Wyclef Jean when she was 13. She auditioned for American Idol season 7 in 2008 and went on to make the Top 12 girls and Top 24 overall.
Joanne also appeared on Oxygen's Mo'Nique's Fat Chance season 1 and as a coach on MTV's Made in 2011. Most recently she has starred on NuvoTV's Curvy Girls. Since American Idol, Joanne has also become an internationally recognized plus size model, booking campaigns for Torrid, Ashley Stewart, Proctor & Gamble and Kohls. She has been featured in magazines such as InStyle, Essence and Seventeen.