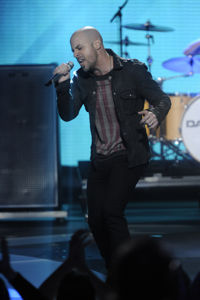 American Idol alumnus Chris Daughtry has discovered the road to fame can be scattered with open hands looking to grab on.
Late last week Daughtry's former band members Ryan Andrews, Scott Crawford and Mark Perry from "Absent Element" filed a lawsuit against him and are looking to claim songs from his band "Daughtry."
The lawsuit claims Chris took four songs, "Home", "Breakdown", "Conviction", and "Sinking" from his days with "Absent Element" and put them to use on his albums with Daughtry. His former band mates are attempting to recover royalties from those songs, but no details on just how much they're seeking in return.
According to the lawsuit by the former "Absent Element" bandmembers:
All four members wrote music and lyrics for Absent Element's songs, collaborated on the arrangement and recording of those songs, regularly consulted with each other on matters relating to the business of the band, and made partnership decisions based on majority votes.
Chris Daughtry posted the following message on his website:
"I am very hurt by these false accusations. The songs listed in this lawsuit were written solely by me and no one else and at this time, I have no further comment."
Since nothing moves quickly in the legal world it'll probably be awhile before we hear how this one gets resolved.
Source: Hollywood Reporter