American Idol 2014 winner Caleb Johnson is currently out on tour and working on his new album at the same time. His debut album is due out on August 12 and we are really hoping it doesn't suffer the same kind of massive delays former winner Candice Glover had with hers.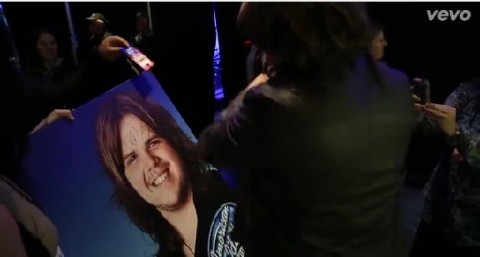 So far, we haven't heard anything indicating any issues with getting the album out on time, despite Caleb's frantic tour and press schedule going on. We're hoping that is a good sign. However, we would like to hear some more news about what's going on with the album!
When we saw a new 'music video' for Caleb Johnson out on YouTube, we were hoping to get a clip of one of the songs off the upcoming album. Well, we did, but it happens to be the same coronation song we've already heard plenty of times.
While it's nice to hear part of the full, rocking version of "As Long As You Love Me" in the video and see lots of footage of Caleb enjoying his new-found fame, we want more please!
So bring on the Caleb Johnson album spoilers and let us hear what our American Idol winner has been up to in the studio when he isn't running all over the country!