American Idol 2014 winner Caleb Johnson auditioned for the show repeatedly and didn't make it through to the finals, but this time he made it all the way to the top at last. Defying the odds, Caleb was the first rocker to win American Idol since David Cook way back in season 7.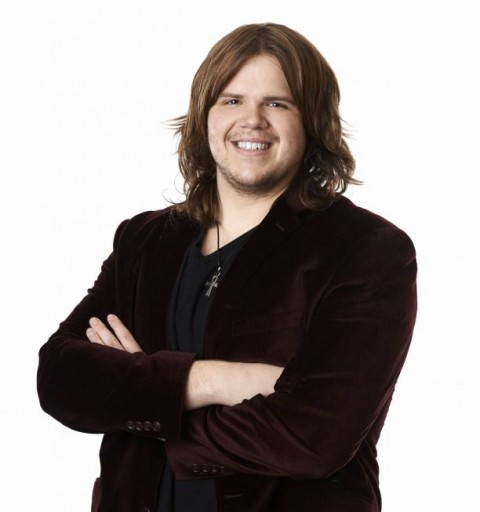 Facebook | Twitter | YouTube | Fan Page | Idol Fan Page
Caleb auditioned for 
American Idol 
season 10 and made it almost to the Top 24 in season 11. Back yet again for season 13, he was hoping the third time would be the charm. Apparently it was, since America voted him all the way to the end as the American Idol season 13 winner!
Southern rocker Caleb Johnson actually auditioned in two different cities for American Idol in 2011, according to MountainX.com. The first time, he said, he was so nervous that he sang with his eyes closed the whole time. His mom pushed him to give it another go, so he ended up flying out to Austin, Texas for a second try.
For that audition, the Erwin High graduate impressed American Idol judges Jennifer Lopez, Steven Tyler, and Randy Jackson with a rendition of "Rusty Cage" by Soundgarden. Here's a video clip from 2011 featuring a tiny bit of Caleb's audition for the American Idol judges back then.
During Hollywood Week, Caleb ended up in a horrible group number with future season 10 finalist James Durbin. James is lucky he survived Hollywood at all after this group performance, Caleb wasn't as lucky.
Caleb returned in 2012 to try again to make it to the finals on American Idol season 12, calling the show "addictive" in an interview with YDTalk.com. He made it through the auditions in Savannah that year and got a Golden Ticket to Hollywood, but was cut before the Top 24. We didn't get to see his audition reel from season 11, but we got a little taste of him in Vegas Week during a group performance of "It's My Party" by Lesley Gore and "Burning Love" by Elvis.
Caleb is definitely a rocker, which is a genre we always like to see well represented on American Idol. Back home in Asheville, NC, Caleb Johnson played in bands such as Rock Bottom and Elijah Hooker, and has guested with groups like Skinny Legs and All — which happens to be fronted by another former American Idol hopeful, Jesse Barry — according to MoutainX.com. He's also a songwriter, which we always enjoy. Here's one of his originals below for you to enjoy called "Down To The River."
Watch plenty more of American Idol Caleb Johnson in action on his YouTube channel and you can take a look back at all of Caleb Johnson's awesome American Idol performances throughout the season below.
Caleb Johnson American Idol Performances
Season 13 Audition:
Road to Hollywood:
Hollywood Week Solo:
Hollywood Week Final Judgement:
Top 31 This Is Real Profile:
Semifinals Rush Week:
Top 13 Performance:
Top 12 Performance:
Top 11 Audition For Caleb Johnson:
Top 11 Performance:
Top 10 Performance:
Top 9 Performance:
Top 8 Performance:
Top 8 Redux Performances:
Top 7 Performances:
Top 6 Performances:
Top 5 Performances:
Top 4 Performances:
Top 3 Performances:
Caleb Johnson Hometown Visit:
Top 2 Performances:
American Idol Finale & Results: