Why is American Idol 2014 finalist Dexter Roberts missing from the Live Tour? We've received several questions from readers asking why the country crooner has been absent from the tour for over a week. Well, the official word from one of his fellow finalists is that he is sick, but it seems there might be quite a lot more to the story…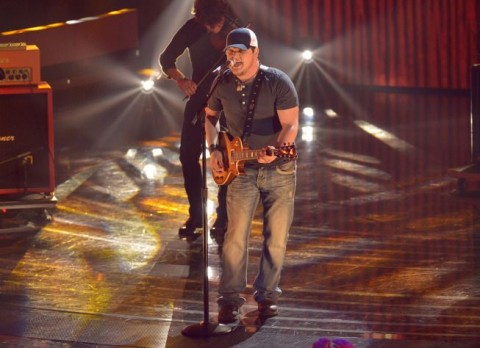 Dexter Roberts has reportedly been MIA from the American Idol Live Tour since the beginning of July. We have been unable to find any press releases or announcements about his absence, which we find a bit unusual. What if you bought tickets to one of the concerts just because you were a Dexter fan and wanted to see him? And then no one even told you why he wasn't there?
According to fellow American Idol 13 finalist Jessica Meuse, the country singer has not been performing because he is sick. Here's the tweet she sent out in response to a fan question about why Dexter was missing:
@TheJeffDodge Dexter is unfortunately dealing with an illness, and we aren't sure when he will be back. 🙁

— Jess Meuse (@JessMeuse) July 7, 2014
Dexter himself doesn't appear to have posted to his official Twitter or Facebook pages since June. We aren't sure what is going on there and why he wouldn't be promoting the heck out of himself right now like most of the rest of his fellow finalists are.
According to American Idol fan site MJsBigBlog, Dexter has missed at least three shows so far. There have reportedly not even been any pre-show announcements to concert-goers that he would not be performing.
Even more oddly, the World Deer Expo in Birmingham, Alabama just announced that Dexter would be attending for a "ALL 3 DAYS" from July 18 to 20. That is smack dab in the middle of the tour and means that Dexter will most certainly miss several more concerts scheduled in Florida during those dates.
Dexter has also reportedly been spotted around his hometown and does not allegedly appear to seem sick. There is no good reason why he should be making appearances at a hunting expo instead of playing on the American Idol Live Tour. The tour organizers are not saying anything and his fellow finalists are not talking about Dexter at all, other than the one tweet from Jessica.
According to Yahoo.com, illness may not actually have anything to do with Dexter Roberts being missing from the tour. In fact, they say a "source close to the Idol camp" has revealed to them that Dexter and the American Idol Live Tour have parted ways for good.
"Both parties mutually agreed that he would be released from his contractual obligations to continue performing on the tour," the source reportedly told Yahoo Music.
Which just leaves us to wonder, what on Earth is going on with Dexter Roberts? If he really did bow out of the tour, why did he do it and lose out on the income and the publicity? Or was he basically 'fired' from the tour for some unknown reason and the tour organizers and Dexter himself are hoping it will never come to light?