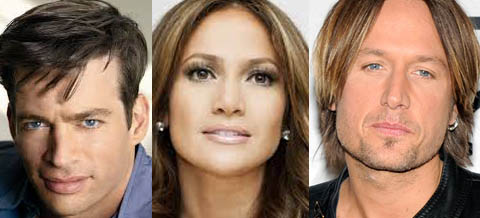 After months of rumors and speculation, American Idol producers have confirmed what they're calling a "dream team" judging panel. It's official that Keith Urban, Jennifer Lopez and Harry Connick Jr. will be judging American Idol 2014.
"American Idol has always been about discovering the next singing superstar, and next season our judging panel will deliver a most impressive combination of talent, wisdom and personality to do just that,"  Kevin Reilly, chairman of entertainment at Fox said. "Jennifer Lopez, the triple-threat global superstar who loves Idol and whom Idol fans love; Harry Connick, Jr., a bona-fide musical genius and fantastic Idol mentor whose honesty and expertise can help turn these hopefuls into stars; Keith Urban, a multi-Grammy-winning artist who was such a positive force on the show last season. We are also very excited to have our friend Randy Jackson now in a new role as mentor, and the captain of our team — the heart and soul of Idol — Ryan Seacrest returning as host."
Yes, you read that right, Randy will still be a part of the show, only this time he will be serving as mentor like Jimmy Iovine has done the past few seasons.
"I think this season of Idol is gonna be a blast,"  Urban said following the official announcement.  "New team, new energy and a whole new field of artists to be discovered and given a chance!"
The new judging trio actually have their first Season 13 American Idol gig today in Boston.