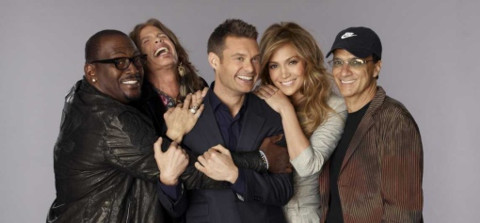 Update: We've got Paris Tassin's audition down below along w/ tonight's intro so you can watch Blake Patterson break down and then check out the new fancy intro.
Week 1 American Idol Season 10 auditions continue tonight with another two full hour of high notes and low points as the judges head to New Orleans for more.
Last night's episode introduced many changes and I'd have to say they were working well. From the simplest of a new intro to the show (very slick) to the most anticipated change with the judges, American Idol is definitely back in full force.
Unlike some past seasons, Wednesday's premiere felt like it kept its focus on the better singers rather than hyping and dashing the dreams of the hopeless. Maybe producers are trying to keep things more on the talent and less on the trainwrecks.
The big question of the night was of course, can American Idol survivor without Simon Cowell? My answer is: yes. The judges panel felt smooth even if occasionally awkward with Lopez trying to lead when she should let the 9-season veteran Randy show them the way. I'll still have to be convinced once we reach the live performance stage of the show and we can see how this new trio handles on-stage mentoring and guidance, but for now I'm satisfied.
For a more in-depth analysis of what worked and what didn't (or at least what was liked and what wasn't), check out Reality Rewind's Idol 2011 premiere review and don't miss what Small Screen Scoop had to say on the new Idol judges' debut.
Are you ready to accept American Idol 2011 for all its changes and move forward like it's the show you've always loved? Any early favorites for you?
Make sure you're keeping up with the latest American Idol spoilers and news by joining us on Facebook, following us on Twitter, and grabbing the free email alerts.
Update 3: By popular demand, here is Paris Tassin, the 23 year old medical assistant from New Orleans singing "Temporary Home" by Carrie Underwood.
Update 2: Poor Blake Patterson. He definitely didn't make it to Hollywood:
Bonus Update: Watch 16-year old Travis Orlando, the final singer from last night, perform 'Eleanor Rigby' and 'I'm Yours' for the judges in the video below.