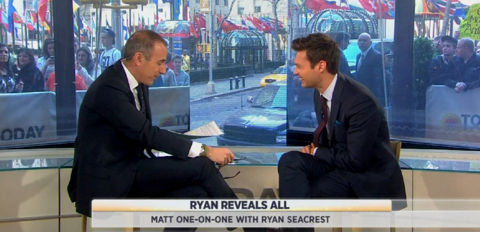 American Idol host Ryan Seacrest went on "The Today Show" this morning to speak with Matt Lauer about a "big announcement."
The news turned out to be that Ryan will shift from within the NBC Universal family and also begin working with NBC rather than just E!. His first assignment will be with NBC's primetime when he becomes a correspondent for the summer Olympics later this year in London, UK.
Matt Lauer pressed Ryan Seacrest to discuss what many have speculated: Ryan taking over Lauer's role on "The Today Show." Seacrest pushed back that it was too soon to discuss filling a still warm seat (Lauer has not announced any plans to leave). Not only did we learn about his future with NBC, but also his plans for FOX and his big hosting gig there.
When it came to the topic of American Idol, Seacrest had nothing but good things to say. "I plan to stay there. I think I'll have an official statement very, very soon. But I expect to be on that show." Ryan went on to say Idol is a "great show program" and "a circus to run and I enjoy it."
Sounds like we'll have many more years of Ryan Seacrest with Amerian Idol 2012 not being his last in the role of host. Are you relieved to hear Ryan is sticking around for more Idol?