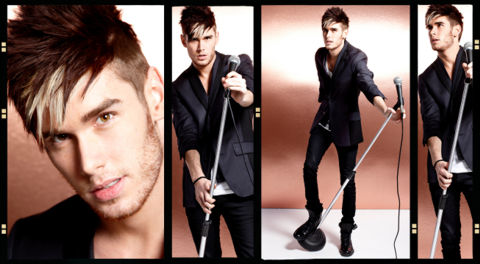 This week American Idol 2012 will be taking us back to the 80s, which was sadly before most of the American Idol contestants' time. Ha.
And while the 80s is a pretty broad topic, I'm going to attempt to pick some songs out for these guys. Just for the fun of it. You know how it goes.
Colton Dixon: "With or Without You" by U2. I think a little piano and a little that little subtle twang Colton throws in every now and then could really work with this song. I think familiar songs are crucial right now and this could be just the song for Colton.
Phillip Phillips: "Don't You Forget About Me" by Simple Minds. The theme song to "The Breakfast Club" would sound pretty sweet with Phillip's spin on it. David Cook ended up doing that song for the following season's swan song, so that could make it less special, but something along those lines would fit well with Phillip's soul.
Hollie Cavanagh: "Love is a Battle Field," by Pat Benatar. I'm going to pick a Pat Benatar for someone every week until someone performs one. I think Hollie needs to perform a song with a little more edge. And this, or a number of other Pat songs could do that for her.
Elise Testone: "Sweet Child O Mine," by Guns n Roses. Elise has to keep her momentum going, so I'm going it has to be something bold like this. And there's a beautiful version of the song by the band Taken By Trees that she could be inspired by. Their version is mostly just piano and a female voice. Elise could do a mixture and have yet another moment on American Idol.
Jessica Sanchez, "Total Eclipse of the Heart," by Bonnie Tyler. I think this song would be perfect for Jessica. It's a ballad, but it's a power ballad. It might not be a dance song, but it's certainly not a sleepy ballad either. She could really show were range and emotion on this one.
Joshua Ledet, "My Perogative" by Bobby Brown. I've been feeling like Joshua needs to mix things up just a bit and this could be the kind of song to make that happen. It's a song with a great hook and Joshua could show some versatility with it.
DeAndre Brackensick, " Purple Rain" by Prince. Actually, any Prince song will do. I thought he should've done Prince during the birth year week and he didn't. So now he's got another chance to honor an artist I feel he was born to be inspired by.
Skylar Laine, "I Want To Know What Love Is" by Foreigner. I think Sylar should stay away from the actual country songs this week. Pick an 80s pop song and put a country spin on it. I'd love to hear her do this song with her Skylar touch added to it.
What songs would you like to hear your favorites  from the Top 8 sing this week?