The American Idol judges have one more big twist for you before the live rounds begin next week! Although they've just named the season 13 Top 30, the American Idol 2014 judges will be cutting that number down next week to just 20 contestants who will actually compete in the semifinals.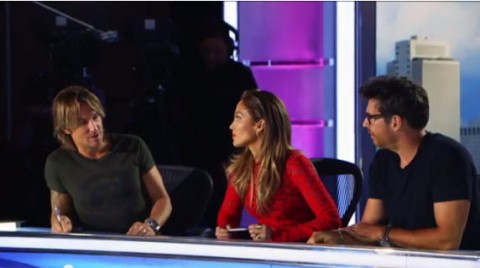 Wait, what? No, we aren't kidding. After all the drama of The Green Mile at the end of Hollywood Week, five guys and five girls in the American Idol Top 30 won't even get the chance to perform for your votes. Harry Connick Jr., Jennifer Lopez, and Keith Urban will be deciding for us which singers are worthy to go to the voting rounds, and which ones will be sent packing.
These harsh cuts will take place during Rush Week (next Tuesday, Wednesay, and Thursday at 8PM ET), which will feature former judge Randy Jackson returning as this season's new mentor. Former American Idol finalists Adam Lambert and Chris Daughtry will also be popping up to help coach the contestants.
While they are going through this, the American Idol judges will be evaluating the hopefuls. The ones they just don't think have what it takes will be slashed and burned right out of the competition. So we'll actually only get to watch the Top 10 girls on Tuesday, and Top 10 guys perform on Wednesday. The rest will be sent home without even getting the chance to take the stage again.
From those, the viewers will get to vote for five guys and five girls to continue on to the finals. The American Idol season 13 judges will choose three more to round out the Top 13. The results will be announced on Thursday night.
What do you think of how the semifinals are being handled this year? Do you like the new format or would rather go back to how it was before?