Last night on American Idol, the Top 10 guys performances were a vast improvement over the ladies on Tuesday night. However, there were a few performances that still didn't quite thrill everyone who was watching. Emmanuel Zidor, in particular drew quite a mixed reaction from viewers, especially after the American Idol judges let him sing part of a second song when no other contestant got that chance.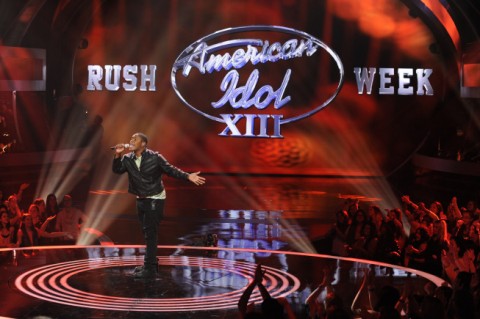 While we got a kick out of Emmanuel and his over-the-top performance of 'The Best of My Love" by The Emotions, not all the American Idol 2014 fans were quite so entertained. Brice Sander of TV Replay comments in the video below that "all anyone could say about Emmanuel Zidor's performance was, "WTF?"
We admit the vocals on the song were weak and there were some off key notes. Honestly, there was a lot wrong with the performance from Emmanuel's questionable outfit to his exaggerated stage moves. Even so, he kept us bopping along to the song the whole time and we never took our eyes off the screen. That's more than we can say for some of the contestants who may have better voices, but bored us in our seats a bit.
What we don't disagree with, however, is the opinion that the American Idol judges should have never let Emmanuel Zidor sing part of a second song. They did not give that opportunity to any other contestant, and so that was extremely unfair.
While we question whether or not the voters will decide Emmanuel deserves a place in the American Idol 2014 Top 13, we think he could be a strong possibility for the wild card selection from the judges.