Tonight the results on American Idol 2014 will reveal which Top 20 contestants move on to become the Top 10 finalists plus three more wild cards. Let's take a look at your votes to predict who will advance on tonight's show.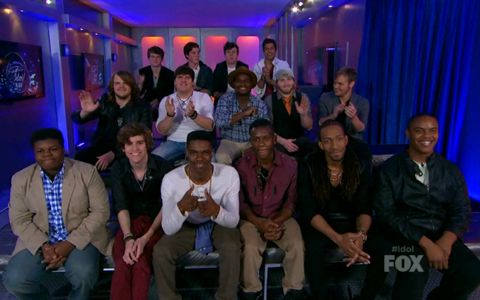 With over 500 votes in our poll we're seeing several contestants moving out with a big lead over the Top 10 Guys.
Sam Woolf is the clear leader in our numbers with 23% of the vote at the moment. Watch out though, Sam, because Alex Preston and Spencer Lloyd aren't far behind while tied at 15%.
That leaves two more spots in the Top 5 spots. In our polling, those go to Caleb Johnson with 14% and lastly Ben Briley down at 8%.
American Idol 2014: Top 5 Guys predictions
Sam Woolf
Alex Preston
Spencer Lloyd
Caleb Johnson
Ben Briley
Don't forget there are still three more wild card spots available between the bottom 5 guys and girls tonight.
Obviously we have a very small sample size in these results so there could be some big shifts in the official results. CJ Harris is just one point behind Ben Briley so we could see CJ making the cut as well.
Likely out of the race is Emmanuel Zidor and George Lovett. I guess that questionable extra chance to sing didn't help Emmanuel after all, though many readers are saying they don't think his talent was up to the level of the rest of the guys in the competition.
Which Top 10 Guys do you think will make it in to the Top 5 spots tonight? Vote now in our poll & share your thoughts!