To say American Idol 2014 contestant Emmanuel Jay Zidor is Beyoncé obsessed might not be putting it strongly enough. As our comrades over at MJsBigBlog note, Miss Sasha Fierce is all over Jay's Facebook, Twitter, and YouTube feeds. In fact, on Facebook, Jay lists his job as being her "Biggest Fan" from March 1998 to present.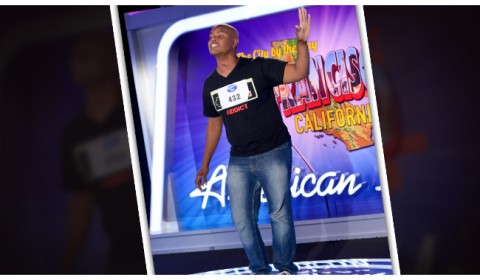 American Idol  Emmanuel Zidor Audition Video:
Road to Hollywood Interview:
Background:
Emmanuel Zidor, who sometimes goes by Jay on his social media accounts, auditioned for American Idol season 13 in San Francisco. We haven't had the chance to see Jay's American Idol season 13 audition yet, but we are betting there will probably be some Beyoncé in there somewhere.
Here's a video of Jay in Utah during his American Idol audition rounds, where he seems to imply that he may have tried out for the show quite a few years in a row. He also notes that the "city of Utah" is beautiful but he would never move there because there are "too many meth heads, no shade."
Some of our readers get irked at us when we mention a contestant is openly gay, but we actually think it is a positive thing to talk about. For years, American Idol has had the reputation — deserved or not — of "closeting" gay singers like Adam Lambert and Clay Aiken while they are on the show. So we are actually pleased to say that Jay is one of at least two openly gay American Idol 2014 contestants this season.
From his Facebook feed, where Jay ALWAYS posts in all caps, we learned that he apparently applied to be  flight attendant back in December of 2012. Not long after, he posted an update saying he started out in 2012 in Savannah and "ended up at Delta in Atlanta," so we're thinking he maybe got the job. We can't help but wonder if he ever sings on the job if he does work as a flight attendant. We've seen some videos of singing airline staff out there but have never gotten to hear one in person!
Jay also posted that he had a goal to "have my own place, my laptop, and a boyfriend" in 2013. We don't know if he accomplished all those goals, but he did succeed at another big thing last year — making it in front of the American Idol judges for season 13. Warning if you decide to visit his personal Facebook page though, he doesn't always play nice with the language.
Emmanuel Zidor is moving on to the American Idol season 13 Top 30. Do you think he'll still be standing at the finale?