Now I'd be lying if I told you I was a Jacob Lusk fan (Save it. I've already been told repeatedly in the comments that not enjoying Gospel makes me racist…), but did anyone catch the curveball thrown his way last night by American Idol's techs? While it wasn't enough to stop his performance it was enough to give him pause and a few confused glances tossed around the stage (video of the incident below).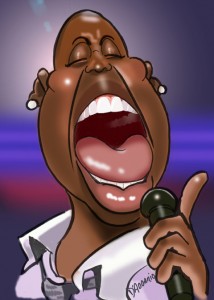 Entertainment Weekly spoke with Idol's arranger and vocal coach Debra Byrd who was on the set to witness it first hand:
The only thing I can say is there was a technical mishap. I was looking at a monitor, just off to the side [of the stage]. So I can't see on the stage. Whatever technically that happened that through him off, threw [the string players] off as well. It was quite an evening for Jacob! And I think he handled it well, because I thought he was going to stop, and he didn't.

I'm glad he didn't stop, but it freaked me out.
You can see how it all played out in the video segment below. During the judges' commentary Jennifer Lopez was either trying to provide cover for the incident or was as equally confused about what just happened. Jacob tries to explain he was getting the wrong track in his earpiece, which you can see he plucks out early in the performance. Kudos to Lusk for keeping it together and pushing on through.
What do you think? Technical mishap or American Idol sabotage?
Image credit: Dan D'Addario