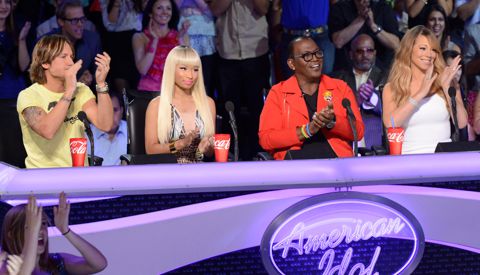 Tonight on American Idol Season 12 the Top 5 will face another elimination in the first ever round featuring five females. We're at the last chance for the Judges Save to see some action, so don't be surprised if everyone scoots to safety by the end of the night.
Accompanying the results envelope tonight will be two returning American Idol alumni, Clay Aiken and Fantasia. Fantasia will perform her new single "Lose to Win" while Aiken's performance was undisclosed by FOX.
We'll be here announcing the results live starting at 8PM ET/PT so join us to find out which of the Top 5 fall to the Bottom 2 and which singer is forced to sing for her life.
Be sure to vote in our poll for this week's best performer from the Top 5. Your usual suspects are running the charts with Candice holding a steady lead once again this week. Could she be destined to win American Idol 2013?
Update: Nicki Minaj has announced tonight's results will be "shocking." Could one of our predicted Top 3 being in danger of elimination?!
Tune in TONITE for Idol's SHOCKING results show!!!!!!!!!!!! FOX

— Nicki Minaj (@NICKIMINAJ) April 18, 2013