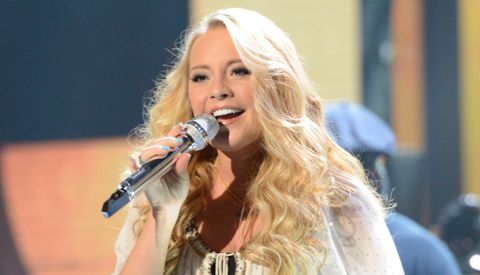 We've deemed Janelle Arthur to be in danger on tonight's American Idol results show and last night's performances didn't do much to convince us otherwise. She's a great performer and very entertaining, but Janelle faces steep competition from the other ladies and we're not sure she can overcome that barrier.
The judges were pleased with Janelle's performances last night though Nicki encouraged her to seek more opportunities to be on stage with her guitar. Randy shared a similar thought saying she should be honest with herself and the audience will connect with her even more.
Janelle Arthur performs "When I Call Your Name"
Keith Urban warned Janelle that he didn't feel her performance. He felt she focused more on gimmicks rather than the performance though Mariah shouted her disagreement.
Janelle Arthur performs "Dumb Blonde"
Do you think Janelle did enough to keep herself out of the Bottom 2? We'll find out tonight