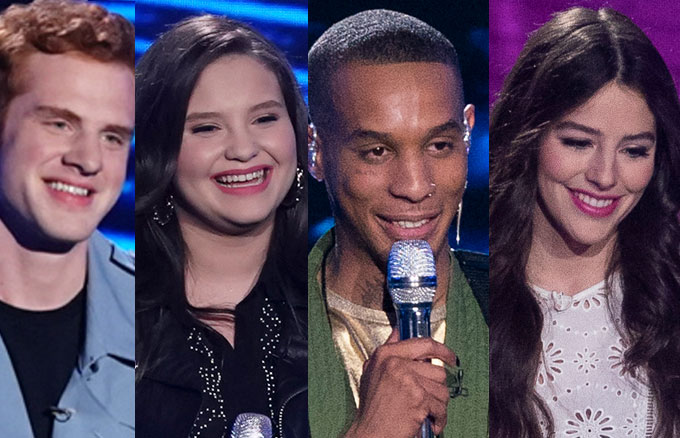 The results are in! For the first time this season, America had a say in who stays and who goes on American Idol 2019. And we have those results for you coming right up!
On Sunday night the American Idol 2019 Top 14 took to the Idol main stage to perform songs that they chose and hoped to impress the voters. Seven of those performances have paid off as they received enough votes from America to advance to the American Idol 2019 Top 10. The other seven must sing for their lives for the three remaining spots to be chosen by the judges. That means four of the American Idol 17 hopefuls will be leaving us tonight!
RELATED: AMERICAN IDOL 2019 TOP 10: DID THE JUDGES MAKE THE RIGHT DECISIONS?
So dim the lights and let's get ready for some results!
American Idol 2019 Top 14 Week Results
Safe, making the Top 10:
Madison VanDenberg
Walker Burroughs
Jeremiah Lloyd Harmon
Wade Cota
Laci Kaye Booth
Laine Hardy
Alejandro Aranda
Singing for their lives:
Evelyn Cormier. She performs "Dust in the Wind." The judges don't seem like they will save her.
Riley Thompson. She sings "It Must Be Love." The judges seem like they might not save her either. But they're saying really confusing things.
Alyssa Raghu. And she picks "The One That Got Away" by Katy Perry. Will the judges save her? Katy doesn't seem like she will…
Dimitrius Graham. His song is "When The Party's Over." Will the judges save him? We'll know soon.
Eddie Island. He goes with "Use Somebody" by Kings of Leon. Will this be enough for the judges to save him? I don't think so.
Ashley Hess. This is one I don't understand. Why isn't she Top 10? She goes with "Sir Duke." The judges better save her.
Uche. He goes with "Diamonds." Will the judges save him? Quite possibly.
Safe:
Uche
Dimitrius Graham
Alyssa Raghu
Going home:
Eddie Island
Ashley Hess
Riley Thompson
Evelyn Cormier
What do you think of the results? Did America make the right choices? Did the judges save the right people?