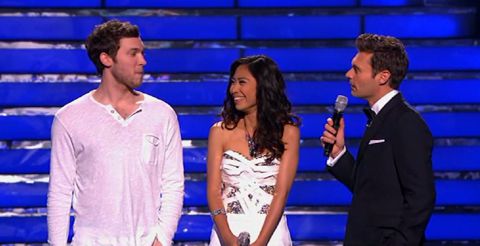 We're about to find out who won American Idol 2012. Will it be Phillip Phillips or Jessica Sanchez? You've cast your votes in our poll and one of these singers has a big lead, but my prediction expects something different. The official votes are in and the tallies are complete so let's get ready for a night of big performances before the lights are dimmed and the American Idol 2012 winner is revealed.
Want to see your favorite Top 10 finalists live in concert? We're giving away 40 pairs of free tickets to the summer tour! Check out the details and get tickets to see the 2012 American Idols when they come to your town.
While we wait for the American Idol results, join us on Facebook & Twitter.
American Idol season 11 performance list:
Top 12, minus Phillip & Jessica, perform "Runaway Baby" to get the night started
Phillip Phillips duets with John Fogerty: "Have You Ever Seen the Rain" & "Bad Moon Rising"
Joshua Ledet duets with Fantasia Barrino: "Take Me to the Pilot"
Top 12's girls perform "I'm Every Woman" with Chaka Kahn
Rihanna performs "Where Have You Been"
Skylar Laine duets with Reba McEntire on "Turn On the Radio"
Jessica Sanchez performs "I Will Always Love You"
Top 12's guys perform "Sweet Caroline" with Neil Diamond
Jennifer Lopez performs "Going In" and "Follow the Leader"
Hollie Cavanagh performs "You'll Never Walk Alone" with Jordin Sparks
Top 12's guys perform a Bee Gees medley in honor of Robin Gibb
Jessica Sanchez duets with Jennifer Holliday: "And I'm Telling You"
Aerosmith performs "Legendary Child"
Jessica Sanchez and Phillip Phillips duet "Up Where We Belong"
American Idol 2012 Winner: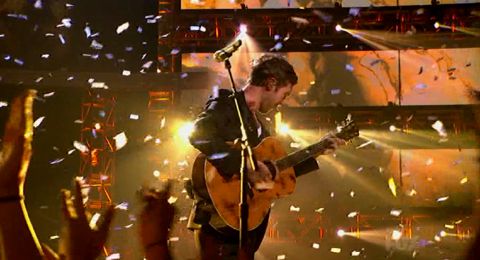 Congratulations to Phillip Phillips on his win. I told you that'd happen, didn't I?
What do you think? Did the right singer win American Idol 2012?
Don't forget to grab your free Idol summer tour tickets. The tour begins July 6th!