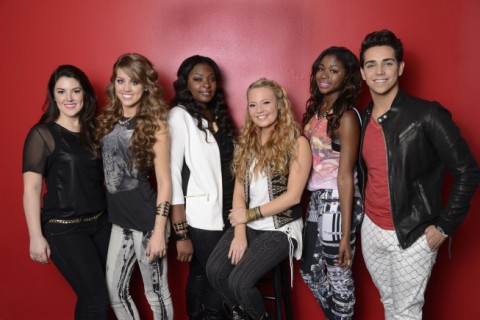 Six performers remain as part of the American Idol 2013 competition this season on FOX. Those singers will take the stage on Wednesday night in hopes of securing your votes and hopefully your "SuperVotes" where viewers can quickly allocate 50 block votes in one swipe.
With so few singers left in the race it would be difficult for FOX to fill a full two-hours with just one song each so buckle in for a fun night of double performances. The stakes are higher when they have twice the chances to disappoint, but also double the opportunity to soar if they take advantage of the spotlight.
Thursday night's performance will feature another incredible American Idol alumni event when both Kelly Clarkson and Scotty McCreery return to the stage as this week's guest performers. Clarkson will deliver her new single "People Like Us" while Scotty will cover an undisclosed song. Any guesses what he'll perform that night?
This should be a big week as no girl has yet been eliminated from the Top 10 finalists group. Only Lazaro Arbos remains for the guys which may surprise many viewers. Can Lazaro keep the momentum alive and score a seat in the final five? We'll find out on Thursday night!