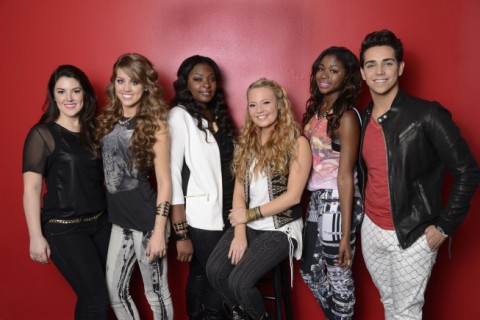 American Idol 2013 hits the double song phase this week when the remaining six finalists will be performing not one, but yes two songs as part of their competition show on Wednesday, April 10, 2013.
Lazaro Arbos, Kree Harrison, Amber Holcomb,Janelle Arthur, Candice Glover, and Angie Miller all return to the stage on Wednesday night starting at 8PM ET/PT on FOX for another live round after seeing Burnell Taylor eliminated from the race during Thursday's eviction results show.
One of the two songs each American Idol 2013 finalist will be performing is required to be "A Song I Wish I Had Written." That should leave the singers wide open to pick any song by any artist. This is basically a wild card pick for them and should help to avoid uncomfortable performances from forced genres.
The looming question is surely whether or not fan favorite Lazaro Arbos will continue to ride the wave of popularity on to the next round or if he'll be the fifth male in a row to be eliminated, leaving behind a Top 5 girls team to crown an American Idol winner.