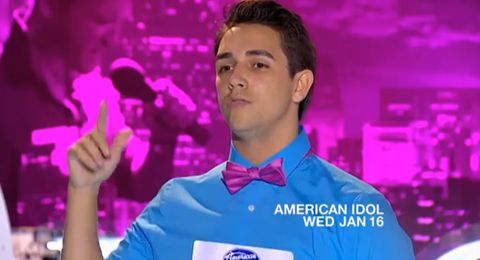 One of the rumored American Idol 2013 Top 40 singers has been featured prominently in some recent Idol promos. Lazaro Arbos, who came to America with his family from Cuba through a visa lottery, is one of production's featured "amazing talent" singers for Season 12. So much so that not only does he receive a Golden Ticket to Hollywood but he also reportedly moves on to become part of the Top 20 boys this year.
American Idol 2013 is Lazaro's first time through the American Idol machine, but while he's sure to be new to most viewers we're promised he'll be very memorable. Lazaro faces the difficulty of a speech disorder but when it comes time to sing his stutter melts away. It's pretty impressive.
While the Idol promo featuring Lazaro hides his actually performance you can watch a past appearance to get an idea of what to expect.
Source: Rickey.org