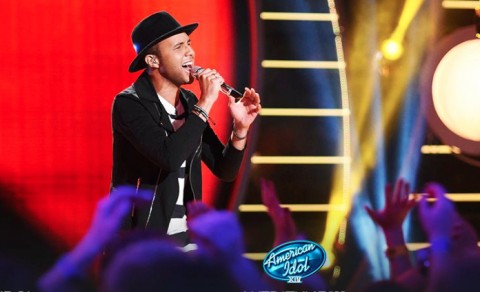 It was movie week on American Idol 2015 and despite a very sleepy night, it ended in excitement as the judges, maybe prematurely, used their one save of the season.
Let's take a look back at the performances from the night. As always, I'll be reviewing each performance and assigning the letter grade I think each one deserves.
Adanna Duru, "I Love You I Do." Well that was incredibly boring. At least her vocals were better this week. But by the time the song was over, I was already ready for the whole show to be over. Not a great way to open the show, I have to say. Performance Grade: B
Daniel Seavey, "Lost Stars." Who picks an Adam Levine song if you don't have even any semblance of a falsetto? What a horrible song choice. And I'm sort of over the whole thing where I'm afraid to be honest with my Daniel recaps because he's so young and cute. This was horrible. At least it woke me up after Adanna's performance but that was just to look for something to throw at my TV. Performance Grade: D+
Rayvon Owen, "Stayin Alive." This is a good, but risky song choice. And he handled it very well. And even though I think the whole mood of the evening is kind of low, this wasn't actually as boring as I thought it was going to be after the start. Rayvon pulled out a lot of tricks and he was smooth and his vocals were tight. I liked it. Performance Grade: A-
Nick Fradiani, "Danger Zone." Nick ditched the guitar this week and I don't think it effected his vocals at all, but he didn't know what to do with his arms and made some pretty silly moves. But the vocals were fine. Not his best, but fine. The song arrangement was a bit iffy, but overall, it was al OK. Performance Grade: B
Joey Cook, "Mad World." No one should ever do this song after Adam Lambert's version during his season. Especially singers like Joey. This song is so emotional and has so much depth that I'm supposed to feel something when a girl with blue hair and that voice sings it to me? No. Doesn't work. At all. No emotion. No connection. Vocals were fine, but the performance wasn't. Performance Grade: B-
Tyanna Jones, "Circle of Life." Well, this isn't the song I would have picked for her. It's just so cheesy and the lyrics are silly and it's so overrated. Luckily Tyanna can sing anything she wants and it will sound great. But I can't give her an A this week for the song choice alone. Big mistake. Performance Grade: B+
Quentin Alexander, "You're The One That I Want." Hmmm, Grease? Really? OK. This was definitely an interesting arrangement of that song, but not in a good way. It was embarrassingly bad to hear those lyrics performed that way. The vocals, however, were some of his best. But WHAT? Grease? That arrangement? No. Performance Grade: C+
Maddie Walker, "Let's Hear it For The Boy." This is a cute and young song for a cute and young girl. Not a bad song choice, despite the fact that the song is older than her. And like I expected, the performance was cute. Not great or anything, but cute. She's got a nice voice and a distinctive sound, so it's nice to get to know her that way, but I don't know if America will respond to this performance or not. Performance Grade: B
Clark Beckham, "Sunday Morning." I don't know why we've got two Adam Levine songs in one Fox show, but OK. I don't really like this song well, but it wasn't a bad performance. It was a boring performance, but not a bad. Clark is an amazing talent and he can sing anything, but I hope he didn't bore voters. Performance Grade: A-
Jax, "Grow Old With You." Well this might just be one of the most random songs ever performed on American Idol. What's next? The Golden Girls theme? Happy Birthday To You? Eh. I didn't like this at all. It's silly and boring and I can't take her seriously with this. Performance Grade: C+
That leaves Qaasim Middleton as the person with the least votes. He does get his chance to sing for a save, and he goes with "Come Together" by The Beatles. And it's just OK. I know the judges like him and America did like him until his dud performance last week, but this wasn't save-worthy. The judges were clearly going to save him and they did. And I think it was a waste. So next week there will be a double elimination with a 1980s theme.
What did you think of the performances and the save? Did the judges make the right decision?