Last night on American Idol the Judges made a big decision when they announced that yes, they would give their one and only Season 14 Save to Qaasim Middleton. Qaasim had received the fewest votes and was set to be eliminated when his "Come Together" performance put them over the top in favor of keeping Middleton in the competition.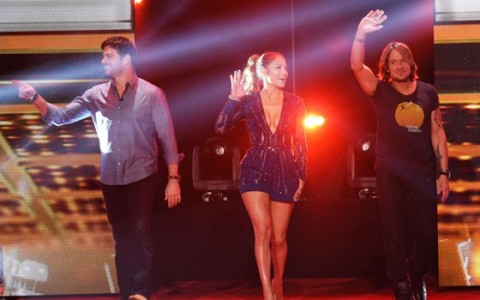 Speaking with FOX All Access, the Idol Judges explained their decision and its impact on the Season 14 competition. So what was it that generated their desire to not see Qaasim leave the race?
Jennifer Lopez explains, "I mean he's the best performer on the show this year, and I really believe that if he gave, I think for us it's always about the performance they give at the moment, and he really, really marked it, like they say, you know what I mean?  He just really killed it and it was just, it just had to be done."
Harry Connick Jr. said at the time of their decision that Qaasim had given the best performance of the night and I think what they're referring to is his stage performance as they've suggested vocal improvements before. No denying though that Qaasim knows how to work that stage and puts on a great show.
How close to not using the Save did they come? Harry reveals, "Had he not done particularly well tonight, I still think we feel strongly about him.  He's going to have to focus more on pure singing at some point, but he's kind of got his own lane with that high energy performance thing, and that was an amazing performance just now.  So I think he deserves it.  We all do."
Keith Urban echoed the panel's support for Qaasim saying, "I think, you know, Qassim always delivers with a great performance and he did tonight."
Qaasim has another shot at your votes this week and the pressure is on to make good on the Save that is no longer available. This was a shocking choice by the Judges not because of who they used it on but because of when they used it. I don't think many of us expected it to come in to play this early, but that's exactly why I'm excited about it.
The Judges Save is now off the table and anyone can go home. There is no safety net and that makes the challenge all that much more thrilling and ups the stakes every week for the contestants and the viewers. Fantastic decision by the Judges and production.
Source: FOX All Access