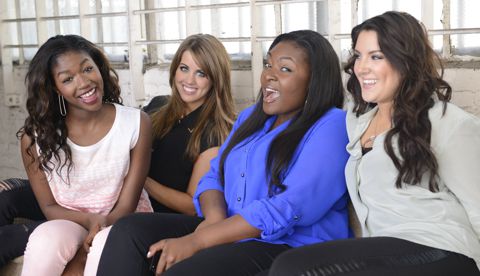 On tonight's American Idol Results episode the seasons final four finalists will be featured in another Ford mission video and we've got your spoilers right here on what they'll be doing.
Past few weeks have featured a "Fiesta Movement" mission as they drove around town, but this week they'll sit down and do so designing instead.
To promote viewers chance at winning a 2014 Ford Fiesta designed by the Idols we'll get to watch as Amber, Angie, Candice, and Kree visit a different kind of a studio for a change. At this art studio they'll help put together a few different looks that will end up splashed across the sides of a few Fiestas. We've got a sneak peak preview of how those designs turned out. Hmm, I wonder who designed the red one there in the background with "Country" stenciled across it?
Here's the part you'll really like. Ford is giving away these Fiestas and you can sign up to win them. Nice! Tonight Ryan Seacrest will announce how you can enter to win, but get a jump start and check out the American Idol site's Ford section for a few early details.
click images to see full-size