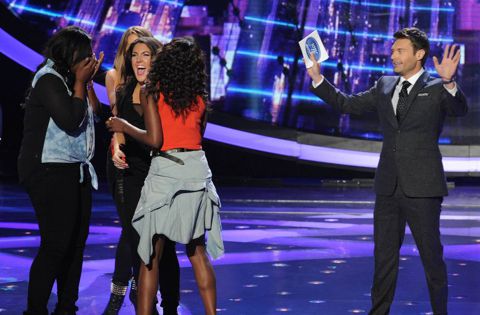 We're ready to look at the American Idol predictions for the second round of Top 4 results tonight on FOX. Last week the girls got to do a happy dance as host Ryan Seacrest revealed everyone was safe thanks to a scheduling mishap. I'm sure that helped Janelle sleep easier. There won't be any such luck this week though as one of these four finalists will face elimination at the hands of the viewers. Who will it be? Let's take a look.
Your votes in our weekly performance poll have been a little surprising this time around. After last week's Bottom 2 featuring Amber and Candice we're seeing a complete flip flop where those same two ladies are crushing the poll with a collective 66% of the vote. Wow!
If Candice and Amber are in the top 2, according only to our poll, then that means Angie and Kree are the bottom two with Kree in last place by a few points. It's not the first time we've seen Kree there, but Angie in the danger zone? That's both a first and hard to believe.
Tonight's American Idol results would be a shocker if either Angie or Kree are eliminated and I really don't think that'll be the case. Keep in mind that this week's votes will be coupled with last week's numbers. So even a lead by Amber or Candice this week would have to surpass the deficit they faced last week on Season 12's Top 4 first performance show. Think that could happen? Sure. Is it likely? I'm doubtful.
Who do you think is going home tonight on American Idol 2013? Check out Branden's predictions and then share your own in the Comments section below.