American Idol season 14 finalist Rayvon Owen was known as the 'Twitter King' and 'Comeback Kid' during his time on the show after being saved repeatedly by his fans via social media. Now Rayvon is hoping all those loyal fans will stick by him as he publicly reveals a very personal side of himself he's been keeping on the down low until now.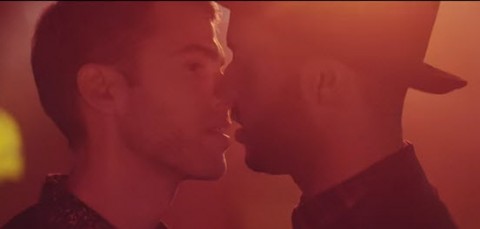 In a new music video for his song "Can't Fight It," Rayvon Owen comes out dramatically by kissing his real life boyfriend, Shane Bitney Crone. The video, released on Valentine's Day, is all about love and honesty, which sets the stage for the big reveal at the end of who Rayvon has been singing his heart out about.
The gorgeous couple met in 2013 at a World AIDS Day event, according to a post Rayvon and Shane released on Facebook. "As I left for the concert's rehearsal, I walked out the large revolving door of my hotel and bumped into a tall, attractive man with a big, bright smile," Shane said of his first time meeting Rayvon. "He said hello, I said hello, and we went our separate ways." The two of them ended up meeting backstage at the concert and the rest is history.
"Rayvon and I had spent a great deal of time worrying that we would never be able to find people who could really appreciate us for who we were, and yet it had happened. It was thrilling," Shane continued in the lengthy Facebook post about Rayvon's coming out. "This was how love was supposed to happen. No lies. No games. Just two people who could be themselves with each other."
Congrats to the happy couple for finding each other, and bravo to Rayvon for coming out and deciding to share his love in such a beautiful way!