Big changes are in store for American Idol voting this year. Not only will fans have the chance to phone in their votes as usual, but viewers will also have the chance to vote instantly through Google Search for American Idol 2014. Plus, they'll be able to keep up with the live voting results via Facebook! This will be a first for any reality TV show competition in history and we can't wait to see how this new innovation will work out when it comes to American Idol voting numbers.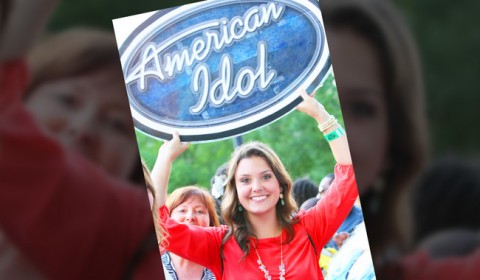 Here's the official press release on the big voting changes for American Idol season 13:
FremantleMedia, 19 Entertainment/CORE Media Group and FOX today announced groundbreaking partnerships with search powerhouse Google and online social networking giant Facebook, designed to give fans powerful new interactive on-air and online experiences with AMERICAN IDOL® XIII live shows.
For the first time in television, Google is powering an online voting platform that allows fans to cast votes for their favorite AMERICAN IDOL® XIII finalists directly from Google Search. In addition, Facebook will support visual, on-air voting progress updates based on real-time East Coast voting data during select live shows, giving at-home AMERICAN IDOL® XIII viewers their first-ever look at how their favorite finalists are faring in the voting polls at a given time.
"Throughout the previous 12 seasons, AMERICAN IDOL® has always been a pioneer in interactive and voting innovation," said David Luner, President, Brand Partnerships & Franchise Management, FremantleMedia North America. "Partnering with both Google and Facebook, two of the biggest names in technology and social media, demonstrates how the show is once again creating a global first, connecting with fans unlike any other entertainment brand in the world."
"This season of AMERICAN IDOL® is all about re-connecting fans with what they love most about the show – the journey of the contestants from hopefuls to stardom," said Bill Bradford, SVP Digital, Fox Broadcasting Company. "With the help of innovators like Google and Facebook, this season, we're deepening that connection by making it easy for fans to make a bigger impact and be a bigger part of the show than ever before."
"We've partnered with AMERICAN IDOL® to make it easy and convenient for fans to vote for their favorite IDOL™ performers using Google Search – whether they're on their computers, phones or tablets," said Anjali Joshi, VP, Product Management, Google Search. "People come to Google to find information, and we're excited to now also power their voting experience."
"Integrating content from Facebook into AMERICAN IDOL®'s live broadcast brings a new dimension to the viewing experience and enhances the connection fans have with the show and its contestants. With nearly 11 million fans of AMERICAN IDOL® on Facebook, and all of the conversations people are already having on Facebook around live television events, there is an endless amount of creative potential through our partnership. We're very much looking forward to seeing that creativity come to life on and off Facebook throughout this season," said Justin Osofsky, VP of Media Partnerships and Global Operations, Facebook.
Beginning with the first finalist performance show on Wednesday, Feb. 26 (8:00-10:00 PM ET live/PT tape delayed), fans will be able to vote via Google when the IDOL™ vote window opens at the top of the show – and every live performance show thereafter – by searching for IDOL™-related terms. Any of these searches will reveal a voting platform where fans can cast their votes for their favorite performers. After casting their votes, fans will have the opportunity to share their votes on Google+, follow contestants, join community conversations or participate in Google Hangouts about the show. With the addition of Google, AMERICAN IDOL ®XIII now offers viewers an unprecedented five ways to vote: 1) Google Search; 2) online at AmericanIdol.com; 3) AMERICAN IDOL App; 4) text messaging; and 5) toll-free calling. All five methods of voting are managed and certified by Telescope, Inc., an independent vote management company.
On air, AMERICAN IDOL® XIII and Facebook are collaborating to provide a groundbreaking, real-time view of East Coast voting trends and create a two-way connection with fans during the live performance shows. The innovation will allow at-home viewers to get a first-ever look at an exciting array of voting information, such as demographic voting trends and relative contestant rankings – as it happens live! In addition, as voters and supporters of the AMERICAN IDOL® XIII hopefuls chime in and back their favorite performer, they will have an opportunity to become part of the show – and see their actual Facebook profile picture featured in the telecast.