We couldn't wait to see who won American Idol 2016 tonight in the very last episode of series! La'Porsha Renae was clearly the underdog going into the finale in most of the fan polls we saw out there. However, we knew from many past seasons that the clear American Idol winner in the polls doesn't always turn out to be the person who actually wins!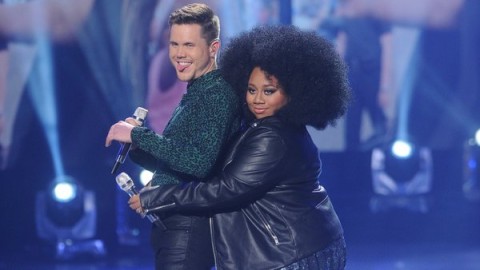 So even though it looked like Trent Harmon was going to walk away with the win, we thought the vote was going to be a close one. If the legion of fans behind recently eliminated contestant Dalton Rapattoni switched to La'Porsha Renae instead, she very well could capture the crown!
WARNING: American Idol spoilers ahead on who won season 15!
When all the votes were counted at last, and the final American Idol winner was announced, we wouldn't have been shocked either by host Ryan Seacrest announcing it was either of the top two. However, it turned out the fan polls and social media trends were spot on this time around. For the final (or is it?) season of the show, it was Trent Harmon who won American Idol tonight.
Your hard work has paid off, @TrentWHarmon. We're honored to be a part of your amazing journey. #IdolFinale pic.twitter.com/HkrMIafFIo

— American Idol (@AmericanIdol) April 8, 2016
What a long, strange trip it has been for Trent, who could have easily gone home during Hollywood Week after being diagnosed with contagious mono. He sang for his life despite feeling absolutely terrible, and apparently it was all very much worth it in the end. Trent's emotional final performance of his Coronation Song, "Falling," was just beautiful to behold!
We don't have the video of Trent's final performance of the song on the American Idol 2016 stage just yet, but we'll post it right here as soon as we do. Meanwhile, you can give a listen to his performance of "Falling" from last night below!
And why not also give a nod to La'Porsha Renae and her beautiful rendition of "Battles," which would have been her coronation song if she had won.
Let the confetti rain down!
I will be finding this confetti on me for days #IdolFinale pic.twitter.com/J9h27bkNsr

— Ryan Seacrest (@RyanSeacrest) April 8, 2016
What do you think about who won American Idol tonight? What do you think about their Coronation Song, will it be a hit or a flop?