Dim the lights. Here we go. Host Ryan Seacrest is about to announce who won American Idol 2016 as Top 2 finalists La'Porsha Renae and Trent Harmon await the viewers' votes.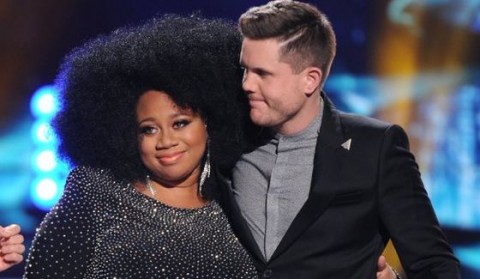 Before we get to Idol's results tonight there will be over two hours of performances and content reflecting on fifteen amazing seasons for American Idol so settle in and get ready for a long night. When we get to the tail end of the show Ryan will announce the news of who won and we'll get that final performance of the night, season, and series.
While we wait to discover the official results we've already made our predictions that Trent will take the crown just as our readers have projected in this week's poll for who will win it all. A win by La'Porsha would be very well deserved and I doubt many would be surprised, but this could be close!
American Idol 2016 Winner:
click images to see full-size views
What do you think the results? Did America get it right? Find out what American Idol has in store for the winner with a record label and recording plan that's ready to go and get this party started. I expect great things from both of these singers.
And just because the season and FOX series is over doesn't mean our coverage is! There's more to discover and discuss so stick with us on Facebook, Twitter, and by Email Updates for even more American Idol.